Pumpkin Butterscotch Cheesecake Bars
Remember when Hubby and I went to Canada a few weeks ago? It was a GREAT trip. We had so much fun hanging out with our friends and their baby. We ate a lot of great food, drank quite a few cocktails, and played more than our fair share of Settlers. (Yes, we're nerds).
Since we rented a cute little house, we were able to cook our meals at home. I love renting a house for vacations. It just makes things so much easier. Obviously, I couldn't spend 5 days in a house with a HUGE kitchen without baking something. So I searched for a recipe ahead of time that would be easy to whip up in a strange kitchen.
I brought the ingredients from home and these pumpkin butterscotch cheesecake bars came together in no time. Pumpkin and butterscotch make such a perfect pair. I definitely recommend trying this recipe before pumpkin desserts disappear from kitchens across the country.
One Year Ago: Acorn Squash Stuffed with Autumn Fruit Compote and Lime Cilantro Sweet Potatoes with Black Beans
Two Years Ago: Rocky Roast Squares
Four Years Ago: Gnocchi with Shrimp, Asparagus, and Pest and Oreo Truffles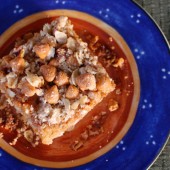 Pumpkin Butterscotch Cheesecake Bars
Ingredients:
2 cups flour
1/2 + 1/4 cup sugar
3/4 cup of dark brown sugar, packed
3/4 cup cold butter
11/2 cup quick cooking oats
3/4 cup pecans, toasted and finely chopped
1 8 oz package of cream cheese
1 can (15 oz) pumpkin puree
2 tsp cinnamon
1 tsp ginger
1/2 tsp ground allspice
pinch of cloves
1 tsp vanilla
1 cup butterscotch chips
Directions:
Heat oven to 350 degrees F. Line a 13×9 pan with parchment paper.
In a bowl mix flour, 1/2 cup sugar, brown sugar; cut butter into mixture with a pastry blender until mixture resembles coarse crumbs. Stir in oats and pecans. Remove 3/4 cup of mixture and add in butterscotch chips. Set aside and reserve for topping. Press remaining mixture into bottom of parchment lined pan. Bake for 15 minutes.
Combine cream cheese and pumpkin; add remaining sugar, cinnamon, ginger, all spice, cloves and vanilla and mix until well blended. Pour over crust and bake for 15 minutes. Sprinkle reserved oat crumb mixture and continue to bake for another 15 minutes.
Cool in pan for 10 minutes and then transfer to a cooling rack. Let cool completely before storing. Cut into 2×2 squares and serve.
12 Responses to "Pumpkin Salted Caramel Snickerdoodle Bars"
Leave a Comment