Lime Cilantro Sweet Potatoes with Black Beans
I love sweet potatoes. They're so delicious whether they're fries or just baked with some cinnamon and butter on top – yummy! I saw this recip pop up and I knew it would make a perfect snack for me on my day home from work.
We always have black beans in the house, so I grabbed the sweet potatoes at the store and whipped this together. I had told Hubby about it and he asked that I save him some for dinner. Midway through the day I texted him to tell him there might not be any leftover!
Of course I was kidding, this definitely makes a decent amount of food. But it is great as a quick lunchtime meal or a side dish. I enjoyed it both warm and at room temperature. I used frozen cilantro since that's what I had on hand, and threw in some chopped up scallions to give more texture.
Note: I received a can of black beans from Goya and Foodbuzz recently. I was glad to be able to put these beans to good use.
One Year Ago: Rocky Road Squares
Three Years Ago: Oreo Truffles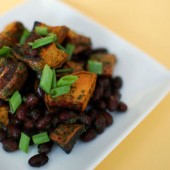 Lime Cilantro Sweet Potatoes with Black Beans
Ingredients:
3 tbsp olive oil
3 medium sweet potatoes
2 cans black beans, rinsed and drained
juice of 2 limes
zest of 1 lime
1 tsp salt, divided
pinch or two cayenne
1/4 cup chopped cilantro
Directions:
Preheat the oven to 450 and line 2 baking sheets with parchment or silpats.
Toss the diced sweet potatoes with oil and 1/2 tsp of salt and spread evenly on the prepared baking sheets.
Bake about 20 minutes (time will depend on the size of the sweet potato pieces), or until tender. Remove and let cool for about 5 minutes.
While the sweet potatoes are baking, whisk the lime zest, lime juice, remaining salt, and cayenne together in a large bowl. Add the black beans and sweet potatoes (after cooling slightly) and toss well. Sprinkle with cilantro, toss again, and serve.

Boston area readers, don't forget that I'm selling pies for Pie In the Sky. The cost of your pie will feed someone in need for an entire week! Please consider buying a pie for a good cause.
Leave a Comment