Rocky Road Squares
These bars are the easiest thing I've ever made. They took literally five minutes to make. It combines the classic flavors of marshmallow, peanuts, and chocolate. I had Hubby cut these into bit sized pieces and took them to ReRack. Everyone seemed to enjoy them because they were gone before I knew it.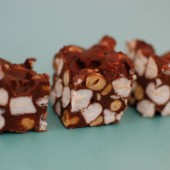 Rocky Road Squares
Ingredients:
1 (12-ounce) package semisweet chocolate chips
1 (14-ounce) can sweetened condensed milk
2 tablespoons butter
2 cups dry roasted peanuts
1 (10.5-ounce) package miniature marshmallows
Directions:
In top of double broiler, over boiling water, melt morsels with sweetened condensed milk and butter; remove from heat. In large bowl, combine nuts and marshmallows; fold in chocolate mixture. Spread in wax paper-lined 13×9-inch pan. Chill 2 hours or until firm. Remove from pan, peel off wax paper; cut into squares. Cover and store at room temperature.
4 Responses to "12 Days of Cookies – Chocolate Chip Snowballs"
Leave a Comment