Megan's Virtual Bridal Shower (and Blueberry Coffee Cake Bundt)
Today is a special day! Not because of this bundt cake, (more on that later), but because I'm hosting a Virtual Bridal Shower for one of my favorite bloggers! Megan from Delicious Dishings is getting married in just a couple weeks. If you don't read Megan's blog, I highly recommend that you start. She loves to bake and is always checking out new restaurants in New England.
I have had the pleasure of getting to know Megan through various trips, blogger events, baking dates, and just hanging out over the past few years. Megan is one of the sweetest people I know and it's always fun to hang out with her. I wish Megan and Jeff (and Gunner!) many years of happiness as they celebrate their upcoming nuptials.
So without further ado, check out this spread. Since Megan is a baker, the theme was baked goods. Be sure to click through to read more about each of these delicious dishes.
Bianca from Confessions of a Chocoholic is celebrating with Pumpkin Banana Bread

Emily from A Cambridge Story is celebrating with Pumpkin Palmier Bites

Meghan from Travel, Eat, Love is celebrating with Apple Cider Cake

Olga from Mango & Tomato is celebrating with Honey Nut Date Cake

Lin from Beantown Eats is celebrating with Boston Creme Pie

Shannon from Tri 2 Cook is celebrating with Peach Shortcake

Bridget from Yogurt and Berries is celebrating with Celebration Pumpkin Bread

And last, but not least, I am celebrating with this Blueberry Coffee Cake Bundt

This coffee cake was so good that I made it twice in a week. I never repeat recipes, but Hubby gave me puppy-dog eyes to make it a second time. So I gave in. I used frozen blueberries that I had from our blueberry picking earlier in the summer.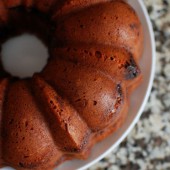 Blueberry Coffee Cake Bundt
Yield: 1 bundt, serves 16
Ingredients:
For the Cake
2 3/4 cups flour
1 1/2 tsp baking powder
1 1/2 tsp baking soda
1 tsp salt
3/4 cup unsalted butter, softened
1 cup sugar
3 eggs
16 ounces Greek yogurt
Zest of 1 lemon
2 tsp vanilla
For the Streusel
3/4 cup light brown sugar
1 cup walnuts, coarsely chopped
1 tsp cinnamon
2 cups fresh or frozen blueberries
Directions:
Preheat oven to 375F.
Grease and flour a 10" tube or bundt pan.
For the Cake
Combine flour, baking powder, baking soda and salt in a bowl. Set aside.
In a separate bowl with an electric mixer cream the butter and sugar until fluffy.
Add eggs one at a time, beating well after each addition.
Add flour mixture alternately with yogurt, lemon zest, and vanilla. Mix until blended well.
For the Streusel
Combine streusel ingredients except for the blueberries and reserve 1/2 cup.
Toss the rest of the streusel with the blueberries.
Assemble the Cake
Spread 1/3 of the batter in the pan, top with 1/2 of the berry mixture, another third of the batter, the rest of the berry mixture and finally the remaining batter.
Sprinkle on reserved streusel topping.
Bake for 55-65 minutes or until a cake tester comes out clean.
Cool 10 minutes on a wire rack.
Very carefully turn the pan over onto a serving plate or cake stand and remove from pan.
12 Responses to "White Chocolate Cran-Raspberry Cake"
Leave a Comment