Blueberry Cheesecake Bars
July's Secret Recipe Club day has arrived! This month I was paired up with Baking and the Boys. Finally, another blogger who's as obsessed with baking as I am! I set off to browse through Katrina's posts and found myself tagging quite a few of them. When baked goods are involved, it's not that surprising that I saw quite a few recipes I was interested in. And, I was excited to again be introduced to a blog I had never heard of before!
I had quite a few recipes tagged and once again, deffered to Hubby. I actually thought he would go for a different recipe, but he chose these blueberry cheesecake bars. I'm so glad he did because they are AMAZING.
They start with a chewy oat base that is baked before being topped with a homamde blueberry jam filling. Next comes a layer of cheesecake (dairy free for me, of course), and last another crumble of the oat mixture on top.
We both thoroughly enjoyed the combination of the blueberry sauce and the cheesecake (again, no surprise, remember this guy?). And the oats gave a nice chewy texture that was appreciated. After we snacked on a few of these, I put the rest in plastic bags in the freezer. Hubby threw one in his lunch every day until they were gone.
One Year Ago: Blueberry Almond Cake with Lemon Drizzle and Avon Walk Recap
Two Years Ago: Chocolate Peanut Butter Cupcakes
Three Years Ago: Rum Punch Cupcakes and Strawberry Cupcakes with Strawberry Frosting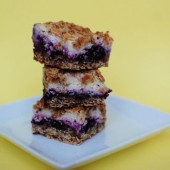 Blueberry Cheesecake Bars
Ingredients:
Crust:
1 1/2 cups quick-cooking oats
1/2 cup flour
1/2 cup dark (or light) brown sugar, packed
1/4 tsp baking soda
1/4 tsp salt
1/4 tsp cinnamon
6 Tbsp unsalted butter, melted
Blueberry Filling:
1 2/3 cup blueberries
3 Tbsp sugar
2 tsp cornstarch
2-3 tsp lemon juice
Cheesecake Filling:
8 ounces cream cheese, softened
1/2 cup sugar
1 egg
1 tsp vanilla
Pinch salt
Directions:
Heat oven to 350. Line an 8-inch square baking pan with non-stick foil or parchment paper.
Prepare Crust:
In a large bowl, mix oats, flour, brown sugar, baking soda, salt and cinnamon. Add melted butter and stir with fork until evenly moistened (mixture will be very crumbly). Reserve 1/2 cup crumb mixture for topping; Press remaining mixture firmly over bottom of foil-lined pan. Bake 12 minutes to set crust.
Prepare Filling:
In a small saucepan, combine blueberries, sugar and cornstarch. Stir in lemon juice. Turn heat to medium and cook, stirring often, until mixture begins to thicken slightly (about 7 minutes). Remove from heat and allow to cool slightly before pouring over baked crust.
Prepare Cheesecake Filling:
In bowl of electric mixer, beat cream cheese until smooth. Add sugar, vanilla and salt and beat well. Add egg and mix until combined. Pour cheesecake filling over blueberry filling.
Crumble reserved crumb mixture over top.
Bake 30 minutes until top is browned and filling is bubbly. Let cool completely in pan set on a wire rack. When cool, chill for an hour before cutting. Lift foil by ends onto a cutting board. Peel off foil; cut into 16 bars. Store in refrigerator, but serve at room temperature.
13 Responses to "Pomegranate Cranberry Quinoa Salad"
Leave a Comment