Blueberry Almond Cake with Lemon Drizzle
I'm not sure if I've mentioned this before, but Hubby is a HUGE blueberry fan. He loves baked goods that feature blueberries. His all time favorite in blueberry pie. I'll have to make that sometime… But back to this cake.

This cake combines on of my favorite flavor combos – blueberries and lemon. Still to this day, one of my favorite cupcakes are the lemon blueberry basil cupcakes I made last summer. They're awesome.

I loved using almond extract in this cake. Almond extract is very strong and aromatic. I am really enjoying William Sonoma bottle I got at TJMaxx, because it's very strong and cost me 1/2 what it would at WS.

I made this cake for our cooking club. Everyone enjoyed it and Hubby and I each had a piece left over for breakfast the next morning. If you left the lemon drizzle off, it would taste very similar to coffee cake with blueberries on top.

Although leaving the drizzle off would be sad because look at the fun squiggly designed it made between the blueberries. It really makes this cake look so pretty.

The cake is pretty dense. And as you can see in the pictures, I overbaked it a bit so it was a little brown on the bottom. But like I said, it was really tasty. It would also be good with raspberries or blackberries on top!
One Year Ago: Chocolate Peanut Butter Cupcakes
Two Years Ago: Strawberry Cupcakes with Strawberry Frosting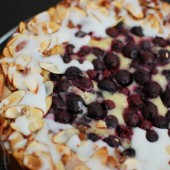 Blueberry Almond Cake with Lemon Cream Cheese Drizzle
Ingredients:
For the Cake
1 1/2 cup flour
2 tsp baking powder
1/4 tsp salt
A pinch of nutmeg, freshly ground
1/2 cup butter, at room temperature
1 cup brown sugar
2 eggs
2/3 cup plain yogurt
2 tsp fresh lemon juice
1/2 tsp almond extract
For the Topping
8 ounces cream cheese, at room temperature
1/2 cup sugar
1 tsp flour
1 egg
2 tsp lemon zest
2 cups fresh or frozen blueberries
1/2 cup sliced almonds
For the Glaze
1 Tbsp lemon juice
1/2 cup powdered sugar
Directions:
For the Cake
Preheat the oven to 350. Grease a 9-inch round cake or spring form pan and lightly dust it with flour.
Sift together the flour, baking powder, salt, and nutmeg. Set aside.
In a large mixing bowl, beat the butter until creamy. Gradually add 1 cup brown sugar and beat for approximately one minute until light and well blended. Add the eggs, one at a time, beating for approximately two minutes after each addition. Alternately, add one-half of the flour mixture and one-half of the yogurt, beating briefly on low after each addition. Repeat. Stir in the lemon juice and almond extract. Pour the cake batter into the prepared baking pan.
In a mixing bowl, beat together the cream cheese, 1/2 cup sugar, 1 teaspoon flour, 1 egg, and the lemon zest for approximately two minutes until very smooth and creamy. Spoon this cheese mixture over the cake batter and spread, leaving a one-inch margin of cake batter exposed around the perimeter of the cake. Sprinkle the blueberries over the cream cheese mixture and the sliced almonds around the perimeter of the cake.
Bake for 40-50 minutes or until a toothpick inserted in the center of the cake comes out clean. Cool the cake to room temperature and serve.
For the glaze
Whisk together the lemon juice with the powdered sugar and drizzle the mixture over the top of the cake.
12 Responses to "Acorn Squash Stuffed with Autumn Fruit Compote"
Leave a Comment