Strawberry Shortcake Cake
Hubby and I went strawberry picking the other day. I actually had never gone, but we've been going through SO MANY strawberries recently that I thought it would be a good idea. We went with our friends K and A. We drove out to Tougas Farms on Saturday morning. We started with some warm fresh out of the fryer strawberry donuts. They were delicious with just a hint of strawberry. Hubby and I also split a strawberry slush. It was basically just some strawberries blended with some ice. It was very refreshing.

We did get rained on in the middle of our strawberry picking adventures. It wasn't anything horrible but we did get a bit wet. Hubby and I came home with ~12 pounds of strawberries. We figured we'd be able to eat our way through about 6 of those pounds, but to go through the rest, I've decided to highlight even more strawberry recipes this week. So today I'm kicking off a second Week of Strawberry recipes. Be sure to check back each day to see what I'm doing with all these fresh strawberries.

The first thing that these freshly picked strawberries went in to was a cake. Hubby announced this year that he was going to make me a cake for my birthday. I was honestly shocked. Hubby has never baked anything in his life. Growing up with him mom being a great cook and baker, then living with me, he's never been in a position to need to bake something himself. So I was very excited to see how it went.

Hubby asked that I give him a few recipes from my to-bake list and he'd choose from there. I gave him three cake recipes that didn't look too complicated. He chose this Strawberry Shortcake Cake recipe from The Pioneer Woman. He baked the cake the night before and wrapped it in saran wrap and put it in the fridge. The next day, after our fresh strawberries were washed and dried, he continued with the filling and frosting.

This cake was very tasty. We took leftovers to work and I kept having people stop by to thank me for the cake. I had to correct them and tell them that Hubby had made it (we work in the same building). I have to admit, Hubby's cake was awesome. I might commission him out to do some baking for me more often! I was in the kitchen giving him tips, but he did it all himself. Even the frosting of the cake.
This cake did get pretty soggy on day 3. I would definitely serve it the same day you put the strawberry filling in the cake. Definitely let it set for a while so the strawberry filling soaks into the cake layers. The second day, it was also delicious.
Two Years Ago: Inside Out Stuffed Peppers and Ropa Vieja
Check out my SECOND week of Strawberry Recipes HERE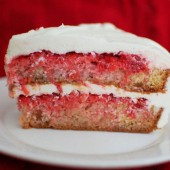 Strawberry Shortcake Cake
Ingredients:
For the Cake
1 1/2 cup flour
3 Tbsp corn starch
1/2 tsp salt
1 tsp baking soda
9 Tbsp unsalted butter, softened
1 1/2 cup sugar
3 eggs
1/2 cups greek yogurt, room temperature
1 tsp vanilla
For the Frosting
1/2 pounds cream cheese, room temperature
2 sticks unsalted butter
1 1/2 pound powdered sugar, sifted
1 tsp vanilla
1 pound strawberries
Directions:
For the Cake
Sift together flour, salt, baking soda, and corn starch.
Cream 9 tablespoons butter with the sugar until light and fluffy. Add eggs one at a time, mixing 1 minute after each addition. Add yogurt and vanilla and mix until combined. Add sifted dry ingredients and mix on low speed until just barely combined.
Pour into greased and floured 9-inch cake pan. Bake at 350 degrees for 45 to 50 minutes, or until no longer jiggly. Remove from cake pan as soon as you pull it out of the oven, and place on a cooling rack and allow it to cool completely.
Stem strawberries and slice them in half from bottom to top. Place into a bowl and sprinkle with 3 tablespoons sugar. Stir together and let sit for 30 minutes. After 30 minutes, mash the strawberries in two batches. Sprinkle each half with 1 tablespoons sugar and allow to sit for another 30 minutes.
For the Frosting
Combine cream cheese, butter, powdered sugar, vanilla, and dash of salt in a mixing bowl. Mix until very light and fluffy.
Assemble the Cake
Slice cake in half through the middle. Spread strawberries evenly over each half (cut side up), pouring on all the juices. Place cake halves into the freezer for five minutes, just to make icing easier.
Remove from freezer. Use a little less than 1/3 of the icing to spread over the top of the strawberries on the bottom layer. Place the second layer on top. Add half of the remaining icing to the top spreading evenly, then spread the remaining 1/3 cup around the sides.
Leave plain or garnish with strawberry halves.
Cake is best when served cool. Store in the fridge.
9 Responses to "Mustard Maple Brussels Sprouts"
Leave a Comment