Colorful Cumin Quinoa Salad
Quinoa has become a new staple in our house since recently trying it for the first time. By the way, in case you were wondering, it's pronounced keen-wa.
There have to be hundreds of quinoa salad recipes where it's mixed with a variety of ingredients. So far, we haven't been disappointed. This salad is very similar to the Bell Pepper and Black Bean Couscous Salad that Hubby loves so much. The spices are a bit different, and we both really enjoyed this salad, especially the sweetness from the mango!
One Year Ago: Spicy and Sweet Pretzel Party Mix
Two Years Ago: Overnight Cinnamon Rolls
Three Years Ago: Chocolate Cupcakes and Stuffed Chicken Burgers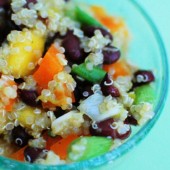 Colorful Cumin Quinoa Salad
Ingredients:
1/2 cup dry quinoa
1/2 ripe but firm mango, peeled, pitted, and diced
1/2 red bell pepper, diced
1 cup black beans, rinsed and drained
1/2 cup scallions, chopped
1/2 cup cilantro, chopped
1 Tbsp freshly squeezed lime juice
1 Tbsp extra virgin olive oil
1 tsp cumin, or more to taste
Kosher salt, to taste
Directions:
Cook quinoa according to package directions. You should end up with roughly 1 cup of cooked quinoa.
In a medium bowl, combine the warm cooked quinoa, mango, red bell pepper, black beans, avocado if using, scallions, and cilantro.
In a small bowl, whisk together the lime juice, oil, cumin, and salt. Pour dressing over the salad and stir to combine. Adjust seasonings to taste.
Refrigerate salad for at least 4 hours before serving for best flavor. Serve cold or at room temperature.
11 Responses to "Roasted Beet Hummus"
Leave a Comment