Homemade Green Bean Casserole
Green bean casserole. Some people love it. Some hate it. I have to admit that the holidays just don't seem the same to me without some green bean casserole. It holds a nostalgic place in my heart. Last year, I made the recipe that most people are used to eating. The one off the French's fried onions can.
When I saw Alton Brown make a green bean casserole completely from scratch, I just knew I had to try it. Getting rid of the uber processed cream of mushroom soup is a big plus in my mind. Making the entire recipe from scratch does take a bit more time, but it's definitely worth it. Hubby even said he loved this version. I made the casserole in advance and then just baked it the last fifteen minutes just prior to serving.
I used 8 oz of portobello mushrooms and 4 oz of shitake mushrooms to enhance the mushroom flavor even more. The shitake definitely upped the creaminess of the entire dish. I have to admit, after making this recipe, I don't think I'll ever go back to the other version!
One Year Ago: Cookie Dough Brownies
Two Years Ago: Peppermint Sandies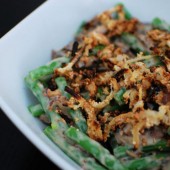 Homemade Green Bean Casserole
Ingredients:
For the Topping
2 medium onions, thinly sliced
1/4 cup flour
2 Tbsp panko bread crumbs
1 tsp kosher salt
Nonstick spray
For the Beans
1 pound fresh green beans, rinsed and trimmed
1 gallon water
2 Tbsp kosher salt
For the Sauce
2 Tbsp unsalted butter
12 ounces mushrooms, trimmed and cut into 1/2-inch pieces
1 tsp kosher salt
1/2 tsp freshly ground black pepper
2 cloves garlic, minced
1/4 tsp freshly ground nutmeg
2 Tbsp flour
1 cup chicken broth
1 cup half-and-half
Directions:
Preheat the oven to 475 degrees F.
Combine the onions, flour, panko and salt in a large mixing bowl and toss to combine. Coat a sheet panwith nonstick spray and evenly spread the onions on the pan. Bake in the oven until golden brown, tossing every 10 minutes, for approximately 30 minutes. Once done, remove from the oven and set aside until ready to use.
Turn the oven down to 400 degrees F.
While the onions are cooking, prepare the beans. Bring a gallon of water and 2 tablespoons of salt to aboil in an 8-quart saucepan. Blanch for 5 minutes. Drain in a colander and immediately plunge the beans into a large bowl of ice water to stop the cooking. Drain and set aside.
Melt the butter in a 12-inch cast iron skillet set over medium-high heat. Add the mushrooms, salt and pepper and cook, stirring occasionally, until the mushrooms begin to give up some of their liquid, approximately 4 to 5 minutes. Add the garlic and nutmeg and continue to cook for another 1 to 2 minutes. Sprinkle the flour over the mixture and stir to combine. Cook for 1 minute. Add the broth andsimmer for 1 minute. Add the half-and-half and cook until the mixture thickens, approximately 6 to 8 minutes.
Remove from the heat and stir in 1/4 of the onions and all of the green beans. Top with the remaining onions. Place into the oven and bake until bubbly, approximately 15 minutes. Remove and serve immediately.
One Response to "Goat Cheese and Spinach Turkey Burgers"
Leave a Comment