M&M Surprise Cookies
These cookies should be called "Super Sugar Overload Cookies". They're pretty intense. I could only handle eating one of these and I love chocolate and peanut butter. When you consider the anatomy of this cookie, it's not wonder they're sugar-coma inducing. Start with a peanut butter cookie pressed into a mini-muffin tin, then a Reeces peanut butter cup is pressed into the cookie. On top of the peanut butter cup are 4 mini marshmallows heated until they puff up. Next, a drizzle of chocolate which is finally topped with some crushed M&Ms. These little guys really pack a punch of flavors. It's like a sugar party in your mouth.
I had a really hard time finding mini-M&Ms. In fact, I couldn't find them. I looked in three stores with no luck. So I just used regular M&Ms that I chopped up a bit so they wouldn't be disproportionate in size. It worked just fine.
Definitely be sure to let the peanut butter cookies cool completely in the pan. If you try to remove them too early, they'll get all smooshed up and it won't be pretty.
I had some issues with the peanut butter cookie batter. It had an odd texture even prior to baking. It was a bit gritty. Next time, I would definitely cream the peanut butter, then add the sugar and cream those two ingredients prior to adding the eggs. I think that would help with the texture. It wasn't horrible, just not as smooth as I would have thought.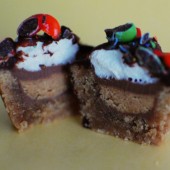 Peanut Butter Cup Surprise Cookies
Ingredients:
2 Cup creamy peanut butter
2 Cup sugar
2 egg
24 mini Reeses Peanut Butter Cups, unwrapped
mini marshmallows
2 Cup semi sweet chocolate chips
4-6 Tablespoons heavy cream
1/2 Cup mini M&M's - I used chopped M&Ms
Directions:
Preheat oven to 350 degrees F. Place peanut butter, sugar and egg into a large bowl and mix until well combined.
Scoop dough evenly into a 12 count mini cheesecake pan or mini muffin pan. Cook for 13-15 minutes until almost done.
Remove from oven and press a peanut butter cup into the center of each cookie until flush with cookie top. Top each cookie with 4 mini marshmallows and return to oven for 2-3 more minutes or until marshmallows are puffed. Remove and set aside to cool for 10 minutes.
Place chocolate chips into a microwave safe bowl and microwave in 30 second intervals until melted smooth. Stir in 2-3 Tablespoons heavy cream until silky and smooth. Spoon chocolate over top of puffed marshmallows and sprinkle with mini M&M's.
I am submitting these as my entry for Flavor of the Month on Bake at 350. This month, the flavor is Cookies!
2 Responses to "Texas Sheet Cake"
Leave a Comment