Garlic Naan
Mmmm…. Garlic….
I have to admit that before meeting Hubby, I had never cooked with garlic. I'm not sure that I had ever eaten food with fresh garlic used in it… I remember telling Hubby that I wasn't sure if I liked garlic shortly after we met. I think it would have been a dealbreaker for him if I hadn't changed my mind. Once he showed me how to use garlic appropriately in a recipe, I was hooked.
Granted, I don't like garlic quite as much as Hubby does, but I like it more than the average person out there. One of the best applications of garlic in food is garlic naan. Obviously, if you don't like the taste of nearly-raw garlic, you won't enjoy garlic naan. But if you do, this stuff is awesome.
I included making an Indian meal on my 30-by-30 because it's one of our favorite types of food out there. Making the naan was similar to making pitas, so I knew I could handle this part of the meal without too much difficulty. The hard part was to not just eat it all straight out of the oven!
Two Year Ago: Turkey and Zucchini Lasagna
Three Years Ago: Mussels and Salad with Steak
Note: Hubby and I really enjoy garlic so feel free to cut back on the amounts below if you'd like. We thought they were great and could even use a bit more garlic next time!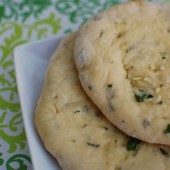 Garlic Naan
Ingredients:
2 cups bread flour
1/2 teaspoon salt
1 1/8 teaspoons active dry yeast
3/4 cup yogurt or buttermilk, at room temperature
2 tablespoons butter, melted, or vegetable oil
1 teaspoon to 1 tablespoon water, as needed
2 Tbsp butter, melted
6 cloves garlic, minced
1/4 cup chopped cilantro
4 cloves garlic, minced
Directions:
Combine the bread flour, salt, and active dry yeast in a large bowl or the bowl of a heavy-duty mixer.
Add the yogurt, butter, and water.
Mix by hand or on low speed until a soft ball of dough is formed. Knead for about 10 minutes by hand or with the dough hook on low to medium speed, until the dough is smooth and elastic.
Transfer the dough to an oiled bowl and turn it once to coat with oil. Cover with plastic wrap and let rise at room temperature for about 1 1/2 hours. Set a rack in the lowest level of the oven and place a pizza or baking stone on the rack.
Preheat the oven to 475°F for 45 minutes. (If you do not have a pizza or baking stone, preheat the oven, place an inverted baking sheet, preferably heavy-gauge, on the rack, and heat the baking sheet for 5 minutes.)
Meanwhile, punch down the dough and divide equally into 4 pieces. Roll into balls, cover, and let rest for 10 minutes. While rising, combine the melted butter, garlic, and cilantro in a small bowl.
Roll out each ball of dough on a floured surface to an oval about 8 to 10 inches long and 1/4 inch thick. Brush the tops with the butter mixture.
Sprinkle the top with more minced garlic.
Place as many dough ovals as will fit without touching each other directly on the baking stone or sheet and bake until each oval is puffy and just beginning to turn golden, 6 to 7 minutes.
Fold the naan in half, place in a cloth-lined basket, and keep covered. Bake the remaining dough. Serve warm.
Leave a Comment