Lemon Cilantro Potato Salad
As I mentioned the other day, spring is right around the corner which makes me want to start using spring ingredients. There's something about lemons that just make me feel like it's spring out. This potato salad is great because it doesn't have mayonaise in it! And it's served warm. It's a very memorable potato salad and would be perfect for Easter dinner.
The recipe comes from Hubby's mom's friend (I'm sure she found it in a magazine or online, but it was emailed to me by Hubby's mom who got it from her). Hubby laughed because he was telling me something the other day about said friend of his mothers. He was asking me if I remember her. I said yea, I remember her, she's the one who makes the potato salad. He laughed and commented that it was very fitting how I remembered her.

One Year Ago: Butternut Squash and Black Bean Quesadillas
Two Years Ago: Dorie's Perfect Party Cake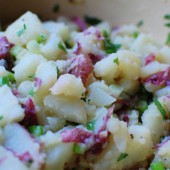 Lemon Cilantro Potato Salad
Ingredients:
2 lb (6 to 8 medium) Red Bliss potatoes, scrubbed
Kosher salt
1/2 cup extra virgin olive oil
1/2 tsp finely grated lemon zest
3 Tbsp fresh lemon juice
freshly ground black pepper
1/2 cup lightly packed chopped fresh cilantro
2 scallions (white and green parts), thinly sliced, or 1 shallot, minced
Directions:
Put the potatoes in a large pot of well-salted water. Bring to a boil and lower to a simmer. Cook, partially covered, until the potatoes are tender when pierced with a fork, about 25 minutes.
Drain and let cool slightly. While the potatoes are still warm, slice them about 1/4 inch thick (no need to peel).
Put half of the potatoes in a large serving bowl. In a small bowl, whisk the oil, lemon zest, and juice, 1 tsp kosher salt, and several grinds of pepper.
Drizzle half of the dressing over the potatoes. Add the remaining potatoes to the bowl, drizzle on the rest of the dressing, and toss gently with a large spatula to combine well.
Add the cilantro and scallions and toss gently again. Taste and add more salt as needed. Serve warm or at room temperature.
Recipe from Hubby's mom's friend
4 Responses to "Smashed Chickpea Salad"
Leave a Comment