Elote
Hubby and I are in love with a cute little taco place called Dorado. It's just up the street and they have amazing fish tacos. During the summer months, they also have Elote as a side dish. We decided to give it a shot one day and instantly fell in love.
Elote is a Mexican style corn that is grilled and then smothered in cheeses and spices. If you haven't had it before, you should definitely try it. When I saw that We Are Not Martha had made Elote at home, I knew I needed to make this. Since we don't have a grill, I boiled the corn for a few minutes, then broiled it in the oven to get a beautiful char on the corn.
The cheese sauce that covers this corn is not diet friendly. But it sure is tasty. Hubby and I have been enjoying this with lovely fresh corn this summer.
One Year Ago: KFC Copycat Biscuits
Three Years Ago: Cookies N Cream Cupcakes and Peanut Butter Cupcakes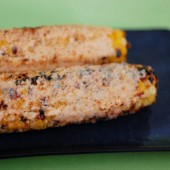 Elote
Ingredients:
1.5 Tbsp mayo
1 Tbsp sour cream
1/4 tsp lime zest
1/4 tsp fresh lime juice
1/8 tsp cayenne pepper
1/8 tsp chili powder
pinch of salt
2 ears of corn
1/2 cup crumbled or grated Cotija cheese
Directions:
Mix together the sour cream, mayo, lime zest, lime juice, chili powder, cayenne, and salt. Cover the spread and store it in the fridge while the corn is cooking.
Grill the corn. If you do not have a grill, you can simply boil the corn. To char the corn, play under the broiler for 3-5 minutes per side until charred.
While your corn is cooking, use a cheese grater to grate the Cotija.
Once the corn is done, use the back of a spoon to rub the spread onto the hot corn.
Roll the corn in the grated cheese.
Once each ear of corn is rolled in the grated cheese, sprinkle another dash of chili powder or splash of lime juice!
3 Responses to "Calzones!"
Leave a Comment