Chocolate Chocolate cupcakes (from Martha Stewart)

To kick off Cupcake Week, I decided to go with a classic flavor combo. Chocolate and chocolate. It doesn't get much better than that… I decided to try another recipe from Martha Stewart's Cupcake Cookbook (which you can win in Part 2 of my Blogiversary Giveaway). I chose the Devil's food cupcake because the photo in the book looks awesome. By the way, I LOVE cookbooks that have a picture for each recipe. Food is very visual for me and if a recipe doesn't have a picture, I have a hard time getting excited about it… I also have to say that so far, I'm LOVING this cookbook. There are full color photos for each cupcake in the book and every one I've tried so far has turned out great. So far this book has two thumbs up!
I topped the Devil's food cupcakes with some leftover ganache I had in the fridge from making some Almond Joy cupcakes. These were decadent and delicious. Definitely try them out if you need a chocolate fix.
Check out my week of cupcakes here.
Don't forget to enter in my 2nd blogiversary giveaway by midnight on August 28th!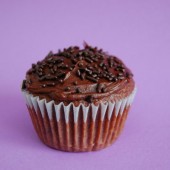 Devil's Food Cupcakes
Ingredients:
For the Cupcakes
3/4 cup unsweetened Dutch-process cocoa powder
3/4 cup hot water
3 cups flour
1 tsp baking soda
1 tsp baking powder
1 1/4 tsp coarse salt
1 1/2 cups (3 sticks) unsalted butter
2 1/4 cups sugar
4 eggs, room temperature
1 Tbsp plus 1 tsp vanilla
1 cup sour cream, room temperature
For the Chocolate Ganache (again, I used some that was leftover. This recipe would make too much for the cupcakes)
3/4 cup semi-sweet chocolate
3/4 cup bittersweet chocolate
1/3 cup heavy whipping cream
Directions:
For the Cupcakes
Preheat oven to 350 degrees. Line standard muffin tins with paper liners. Whisk together cocoa and hot water until smooth. In another bowl, whisk together flour, baking soda, baking powder, and salt.
Melt butter with sugar in a saucepan over medium-low heat, stirring to combine. Remove from heat, and pour into a mixing bowl. With an electric mixer on medium-low speed, beat until mixture is cooled, 4 to 5 minutes. Add eggs, one at a time, beating until each is incorporated, scraping down sides of bowl as needed. Add vanilla, then cocoa mixture, and beat until combined. Reduce speed to low. Add flour mixture in two batches, alternating with the sour cream, and beating until just combined after each.
Divide batter evenly among lined cups, filling each three- quarters full. Bake, rotating tins halfway through, until a cake tester inserted in centers comes out clean, about 20 minutes. Transfer tins to wire racks to cool 15 minutes; turn out cupcakes onto racks and let cool completely. Cupcakes can be stored overnight at room temperature, or frozen up to 2 months, in airtight containers.
For the Chocolate Ganache
In saucepan bring whipping cream to boil over high heat.
Pour hot whipping cream over chocolate and stir until chocolate melted.
You can add more cream if your ganache is too thick to spread.
I then chilled the ganache by putting it in the fridge and stirring every 5 minutes until it reached the consistency I wanted. I used a spatula to spread some ganache on the cupcakes.
8 Responses to "Stuffed Strawberries"
Leave a Comment