Crunchy Apple Slaw
I had the opportunity yesterday to head out to Cara's house to participate in her Seder Plate Challenge. She invited some blogger friends out to share our dishes in person.
We were each asked to bring a dish inspired by one of the foods on the Seder plate. I'm not Jewish, so I was excited to learn more about the symbolism of each food. Be sure to check out Cara's blog for all the information about the Seder plate.
I originally thought I'd do a dessert for the event, but a couple other people spoke up quickly and I decided to go with something else. I had a few ideas floating around in my head even up until Friday but hadn't made my mind up yet. Then I saw this slaw pop up from Pennies on a Platter. I decided it would be a perfect creative interpretation of charoset. Since the slaw contains apples and almonds, it fit perfectly into the concept of taking something from the Seder plate and putting a creative spin on it. Check out Cara's Seder plate with all of our goodies on it!
I looked at Nikki's recipe and kind of just threw stuff together based on what I had on hand. It was definitely quite tasty and I'll be making it again this summer when grilling becomes an every day event (can't wait!).
The best part of the day was getting together with some lovely blogger friends to enjoy our food together. And, seeing Cara's house with it's huge kitchen! After eating, we sat around talking about blogging, sharing tips, and of course doing a bit of gossiping! Be sure to check out the recap on Cara's blog. And for one last photo, you know you're eating with a bunch of bloggers when you see this in the dining room…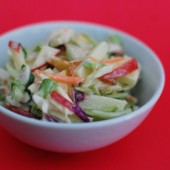 Ingredients:
14 oz shredded slaw mixture
12 oz shredded broccoli slaw
2 red apple (Braeburn preferred), unpeeled and diced
2 green apple (Granny Smith preferred), unpeeled and diced
4 Tbsp chopped green onions
1 cup sliced almonds
1 cup mayonnaise
2 Tbsp granulated sugar
4 Tbsp brown sugar
2 Tbsp apple cider vinegar
2 Tbsp lemon juice
1 Tbsp dried mustard
Directions:
Mix together the first six ingredients in a large bowl.
Combine the dressing ingredients in a small bowl.
An hour before serving, pour dressing over salad contents and stir to coat. Chill in fridge until ready to serve.

Don't forget about Bloggers Bake for Hope – Bloggers Bake. You Bid. 100% of proceeds go to Komen for a Cure. Register to bake by April 30th, come back for bidding May 4-6.

5 Responses to "White Chocolate and Blueberry Cupcakes"
Leave a Comment