White Chocolate Cran-Raspberry Cake
Over the past few years I have started to love making layer cakes. As I've said many times before, I'm not the best at decorating them, but practice makes perfect, right?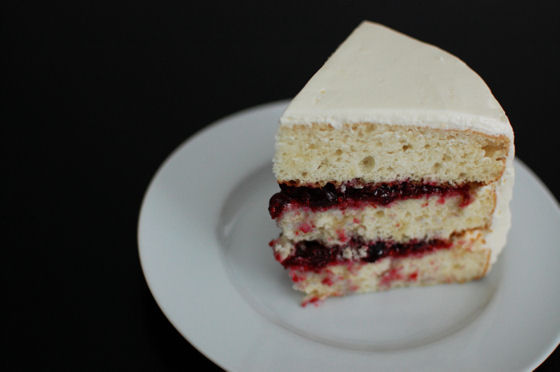 Sometimes I feel like you need a special occasion to make a layer cake. It's usually a decent time commitment and you get a LOT of cake. Hubby and I can't work our way through a whole layer cake, nor should we. I have done some 6″ cakes that yield fewer servings and still give the satisfaction of making a layer cake.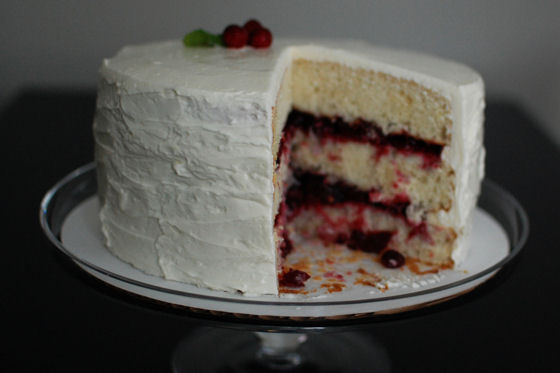 Recently, I threw caution to the wind and made this layer cake just because. I was browsing through some cookbooks to pass the time and for whatever reason this recipe caught my eye. It was a Friday night (I lead an exciting life, what can I say), so I decided to whip up the cake layers and filling that night and assemble the cake the next day.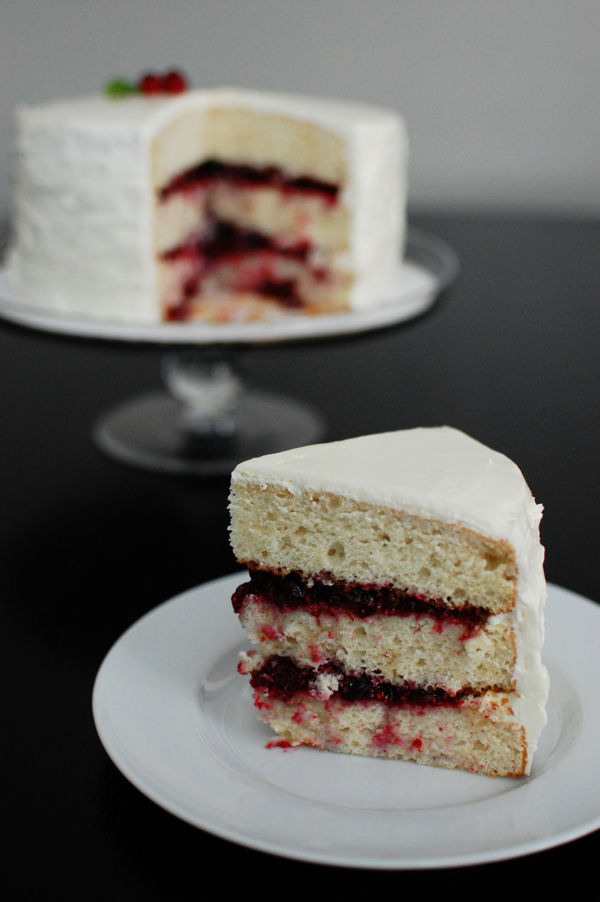 Let's start with this filling. I was surprised to learn that it used dried cranberries. I have never seen a jam/filling recipe that uses dried fruit before. Sure you could just buy some high quality jam at the store instead, but making jam is too easy of a step to skimp on in my mind. I mean hey, if you're committed to making a layer cake, why would you buy the jam.
Anyways, the dried cranberries plump up from the juices of the raspberries and it all comes together quite nicely. I really enjoyed that the jam was cooked with a vanilla bean. Vanilla is one of my favorite flavors. I did have some leftover after assembling this cake and it was delicious on toast as well. I am tempted to make it again just to have some tasty jam in the fridge. You really could make this jam any time of the year using frozen raspberries and dried cranberries.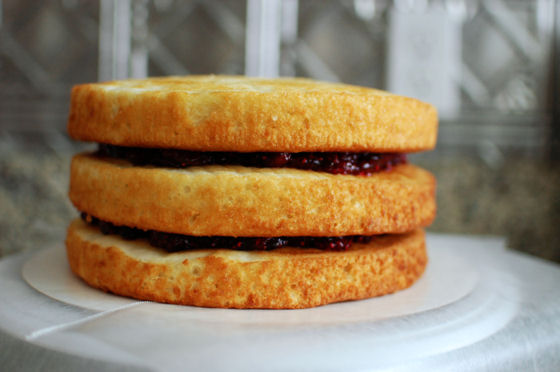 The cake layers themselves are a pretty standard buttermilk cake recipe. The cake flour gives them a very tender crumb.
And finally, the frosting. White chocolate is a great way to flavor a frosting so that it's not too sweet. I think I like the White Chocolate Buttercream from my Purple Ombre Cake better than this one, but both are good.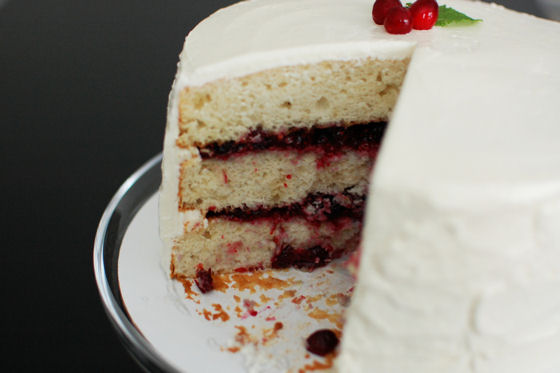 I made this a full-sized cake and forced our friends to help us eat it. I don't think they were complaining at my insistence.
One Year Ago: Peanut Butter Chocolate Chip and Bacon Blondies and Deviled Eggs
Two Years Ago: Hubby's 30th Birthday Mustache Bash and Crockpot Pulled Chicken
Three Years Ago: Sesame Crisps
Four Years Ago: Crockpot Beef and Peppers
I am submitting this for this month's What's Baking, hosted by Steph of Brownies and Blondies. This month's theme was to make a convenience food from scratch. I know a lot of people buy jams or other fillings for the cakes, but I always prefer to make them from scratch!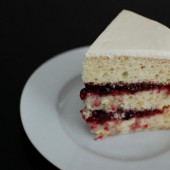 White Chocolate, Cranberry, Raspberry Layer Cake
This buttermilk sponge cake with cranberry-raspberry preserves and white chocolate frosting is perfect any time of year because it uses frozen raspberries and dried cranberries
Ingredients:
For the Cake
2 1/2 cups cake flour
2 cups sugar
1 1/2 tsp baking soda
9 egg whites
1/4 tsp cream of tartar
1 cup + 2 Tbsp buttermilk
1/3 cup vegetable oil
1/2 Tbsp vanilla
For the Cranberry-Raspberry Preserves
3 cups fresh raspberries or 12 oz frozen unsweetened raspberries, thawed completely, with juices reserved
1 cup dried cranberries
3/4 cup sugar
1/4 cup orange juice, preferably freshly squeezed
2 tsp grated orange zest
1 one-inch piece of vanilla bean
For the White Chocolate Frosting
3 oz white chocolate, coarsely chopped
1 cup sugar
1/4 cup water
3 egg whites
3 sticks (12 oz) unsalted butter, at room temperature
Directions:
For the Cake
Preheat oven to 350F. Line the bottom of three ungreased 9-inch round cake pans with parchment. Do not grease.
Sift together the flour, 1 cup of the sugar, and the baking soda. Set aside.
In a large clean mixer bowl, whip the egg whites with the cream of tartar until frothy with an electric mixer on high speed. Slowly add the remaining 1 cup of sugar and continue whipping until soft peaks form.
In a large bowl, whisk together the buttermilk, oil, and vanilla until well blended. Spoon one-fourth of the whipped egg whites on top of the buttermilk mixture, then sift a third of the dry ingredients on top.
Fold gently until just a few streaks remain. Repeat two more times, then add the remaining egg whites and fold in gently. Divide the batter among the 3 prepared cake pans.
Bake for 20-22 minutes, until a cake tester or wooden toothpick stuck into the center of each layer comes out clean.
Transfer to wire racks and let the cakes cool completely in their pans, at least 1 hour, before turning out. Run a blunt knife around the rim of the pan. Carefully peel off parchment.
For the Cranberry-Raspberry Preserves
Place all ingredients except vanilla bean into a heave non-reactive pan. Split the vanilla bean lengthwise without cutting all the way through. With the tip of a small knife, scrape the vanilla seeds into the saucepan. Toss in bean pod as well.
Bring to a boil over medium heat, stirring to dissolve the sugar. Reduce the heat slightly and continue to boil until preserves visibly thickens, 15-20 minutes.
Remove and discard vanilla bean pod. Let the preserves cool completely, then cover and refrigerate until ready to use. They will keep well for up to 2 weeks. (You will have ~1/2 cup more than necessary for the cake).
For the White Chocolate Frosting
Melt the white chocolate in a microwave oven on low power for 20-30 seconds, until the chocolate is soft and shiny. It will not look melted until your stir it. Set it aside to cool so it doesn't melt the butter.
In a small heavy saucepan, combine the sugar and water to make a thick paste. Bring to a boil, stirring to dissolve the sugar. Continue to cook over med-low heat without stirring, until the syrup reaches 238F on a candy thermometer.
Put the egg whites into a large mixer bowl, set the mixer to medium speed and beat for ~30 seconds. Gradually pour in the sugar syrup in a thin stream. Raise the mixer speed to med-high and whipe until the meringue has cooled to body temperature. This will take several minutes.
Gradually beat in the butter a few tablespoons at a time. Add the melted white chocolate and beat until the frosting is smooth and fluffy.
To Assemble the Cake
Put on layer, flat side up, onto a cake stand or serving plate.
Spread 3/4 cup of preserves over the cake, leaving a 1/4 inch margin around the edges. Top with the second layer. Cover with another 3/4 cup of preserves. Finally, put the third layer in place and frost the sides and top of the cake with the frosting.
One Response to "Double Chocolate Chews – 2 WW Pts"
Leave a Comment