Herbed Mustard Salmon
Hubby and I eat salmon on a fairly regular basis. We both really enjoy the flavor and it's just so easy to prepare. We usually just season the salmon with salt and pepper and throw it in the oven to roast. Since we eat it so frequently, I'm always keeping my eye out for a new way to prepare it.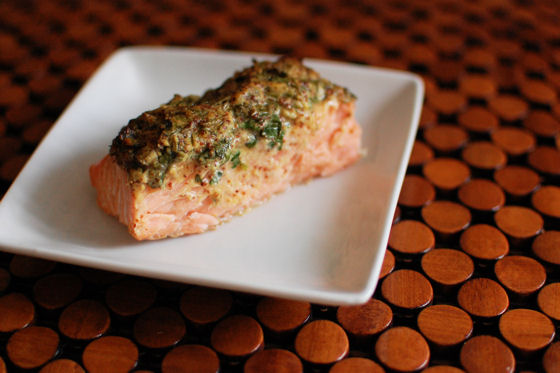 I first made this herbed mustard salmon a couple years ago. Since then, it has become a regular in our dinnertime rotation, but I just never got around to photographing it and posting it for you guys. I like to use whatever mustard we have on hand (which usually includes more than one option) and whatever herbs we have on hand. I like this combination of parsley, rosemary, and dijon the best.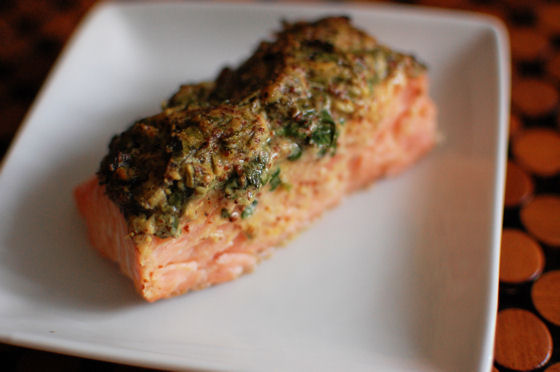 One Year Ago: Crockpot Hawaiian Pulled Pork
Three Years Ago: Spaghetti Squash with Spinach and Raisins
Four Years Ago: Creme Brulee – two ways
Five Years Ago: Cranberry Applesauce – take two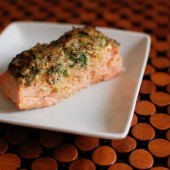 Herbed Mustard Salmon
Roasted salmon topped with a mixture of fresh herbs and mustard
Yield: serves 4
Prep Time: 5 minutes
Cook Time: 20 minutes
Total Time: 25 minutes
Ingredients:
3 Tbsp dijon mustard
1/4 cup parsley, chopped
2 sprigs rosemary, chopped
4 cloves garlic, minced
salt and pepper to taste
1.25 lb salmon
Directions:
Preheat oven to 375F.
Line a baking sheet with foil and place salmon on foil, skin side down.
In a small bowl, combine all of the ingredients except for the salmon.
Spread mustard mixture over the salmon.
Bake for 20-25 minutes.
One Response to "Chickpea and Roasted Red Pepper Salad"
Leave a Comment