Fresh Strawberry Cupcakes with Cream Cheese Frosting
Late spring and early summer is one of my favorite times of year. Not only is the weather turning nicer, the flowers and trees are in bloom, and we're starting to spend more time outside, but strawberries are in season! I actually used to not like strawberries. My sister B always loved them. I remember thinking she was really weird when we were young cause I couldn't stand strawberries. It was one of those things I grew out of though and thank goodness I did!

Obviously, strawberries are delicious on their own, or in strawberry shortcake, but I wanted to bake with them too. If you remember my Top Ten list from last June… I haven't made a whole lot of progress on it in the last year, but I immediately remembered this fresh strawberry cake on the list.

I had a hard time figuring out how many cupcakes the recipe would make. You see, the original recipe is for a two-layer 4.5″ cake. So I did some number crunching and calculated the volume of a 4.5″ cake pan and how many cups of batter that would hold and so on. I figured that one batch would make ~9 cupcakes. Yea,… I forgot to factor in the fact that you don't fill a cake pan to the TOP before you bake it. At any rate, I tripled the recipe because I wanted around 2 dozen. I got 12 cupcakes. And one was a bit on the skimpy side. Oh well, live and learn.

These were a huge hit when Hubby took them to work. I did add the 5 drops of red food coloring so the color of the cupcakes wouldn't be a weird beige color. I love that the recipe uses fresh strawberries and I kicked it up a notch by spooning in even more fresh strawberries after they baked. You can see that I got a bit impatient and frosted these before the cupcakes were completely cooled.
One Year Ago: Roasted Red Pepper Dip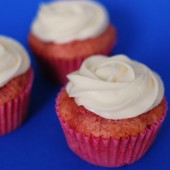 Strawberry Cupcakes
Ingredients:
For the Cupcakes
3 T buttermilk
6 T mashed strawberries
3/8 t baking soda
1 whole egg + yolk of 1 egg
1 1/2 t vanilla
9 T unsalted butter, melted & cooled
1 1/2 c all-purpose flour
1 c sugar
1/4 tsp kosher salt
5 drops red food coloring (optional)
For the Frosting
8 oz cream cheese at room temp
1 stick butter at room temp
1 Tbsp vanilla extract
3-4 cups powdered sugar
Directions:
For the Cupcakes
Preheat oven to 350 F.
Whisk the buttermilk, strawberries and baking soda together in a small bowl. Add the egg yolk, vanilla, and melted butter, whisk to combine.
In a larger bowl stir together the flour, sugar & salt. Add the buttermilk/strawberry mixture & whisk until just blended. Stir in food coloring (if you leave this out, the cupcakes will be a weird beige color).
Divide the batter between the two pans. Bake for 20-25 min or until a toothpick inserted in the center comes out clean.
Allow to cool completely.
I used some leftover cream cheese frosting I had in the fridge. A single batch will usually cover ~24 cupcakes, so you could cut that recipe in half
For the Frosting
Cream butter and cream cheese until fluffy.
Add vanilla extract. Slowly add powdered sugar until desired consistency is reached.
Assemble the cupcakes
Once cupcakes have cooled completely, use the cone method to cut a cone out of each cupcake. Fill the hole with more mushed up strawberries and replace the top. Frost with cream cheese frosting.
Leave a Comment