Red Cabbage Slaw with Cilantro and Lime Dressing
Thank you guys for all the kind word over the past couple of days! I know you're all waiting for the post about the Purple Ombre Cake. I just haven't had enough time to finish it up. I promise it's coming soon. To hold you over, I've got some tasty Red Cabbage Slaw instead.
I happen to love slaw of all types. Even the mayo based ones. I was intrigued by this lime vinegrette based slaw. And obviously, since it's purple, I had to include it in my 1000th Post Party. This slaw has a great crunch and a summery flavor from the cilantro and lime. I will definitely be making this again over the summer for a cookout.
One Year Ago: Homemade Peeps
Four Years Ago: Plum Rolls (Zwetschgenschnecken)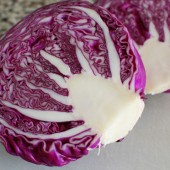 Red Cabbage Slaw with Lime Dressing
Ingredients:
1 head red cabbage, cored
6 oz carrots, peeled and shredded
1 large bunch cilantro, leaves roughly chopped
3 limes, juiced (about 1/3 cup)
2/3 cup neutral oil, such as peanut or safflower
1 to 2 tsp sugar
Kosher salt and freshly ground pepper
Directions:
Shred the cabbage finely in using a chef's knife, a mandoline, or a food processor's shredding blad. In a very large bowl, toss together the shredded cabbage with the shredded carrots and chopped cilantro.
Whisk the lime juice and oil together in a bowl or measuring cup, and whisk in the sugar. Toss with the slaw, and season generously with salt and pepper (it may need more than you think it will at first, and this salad definitely needs its salt!).
Best served within a day or two, cold from the fridge, but you can refrigerate it for up to 3 days or until it loses its crispness.
3 Responses to "Turnip Puff"
Leave a Comment