Warm Chickpea, Mushroom, and Brussels Sprouts Salad
Hubby and I LOVE brussels sprouts. When they're roasted, they are my favorite vegetable. We probably eat roasted brussels at least once a week. Sometimes more like three times a week. They're just SO GOOD. And I'm proud to say that I introduced them to my family and now my 17 year old sister makes them at home for dinner.
As much as I love roasted brussels, I also like to mix things up sometimes. I made this recipe for the first time as an excuse to try that Cardamom Candied Bacon. Let me tell you, we've been mixing this Warm Chickpea, Mushroom, and Brussels Sprouts Salad pretty often since that first time.
If I don't have candied bacon, I just use regular old bacon. I honestly couldn't notice a difference when the bacon wasn't candied. The hardest part of this recipe is just slicing the brussels. Luckily, Hubby enjoys this dish so much, he offers to slice the brussels for me while I cook the bacon. This salad is great fresh off the stove and it also reheats well and is a perfect addition to a packed lunch from home.
Two Years Ago: Mixed Berry and Cream Cheese Filled King Cake
Three Years Ago: Crockpot Red Curry Chicken with Butternut Squash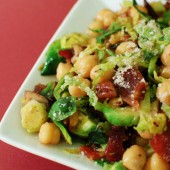 Warm Chickpea, Mushroom, and Brussels Sprouts Salad
Brussels sprouts are roasted with bacon, chickpeas, and mushrooms for a hearty tasty vegetable side dish
Ingredients:
3 Tbsp butter, divided
8 oz mushrooms
20 brussels sprouts (~10 oz)
2 cans (15 oz each) chickpeas, drained and rinsed
4 slices cardamom candied bacon, crumbled (or plain bacon, fried, and crumbled)
1/4 cup toasted pecans, chopped
1/2 tsp pepper
1/2 tsp freshly ground nutmeg
freshly grated parmesan for topping
Directions:
Heat a large skillet oven medium heat and add 2 Tbsp of butter.
Add mushrooms and saute for about 5 minutes, or until they begin to caramelize, stirring occasionally.
Add brussels with a pinch of salt and the remaining tablespoon of butter, stirring to coat, then cooking for another 5 minutes.
Add in chickpeas, bacon, pecans, pepper and nutmeg, then stir and let sit for 5-6 minutes until chickpeas are warm and the flavors come together.
Serve warm with grated parmesan on top.
One Response to "Massaged Kale Salad with Pear and Pumpkin Seeds"
Leave a Comment