Spinach with Pan Roasted Red Peppers and Goat Cheese
I love finding new recipes to use as a side dish or to use a vegetable in a new way. Spinach is a veggie that I'm kind of picky about. I love it raw in salads and on sandwiches, but I'm not a big fan of cooked spinach being the star of a side dish. This recipe has changed that opinion for me. Hubby and I thoroughly enjoyed this spinach recipe and it's a snap to throw together.
I upped the garlic in the recipe since we love our garlic. I wasn't sure how much "two bunches" of spinach came out to, so I just used a 7 oz bag of baby spinach. It looks like our dish was a little light on the spinach to pepper ratio, but we both really liked it, so I'll be making it this way in the future.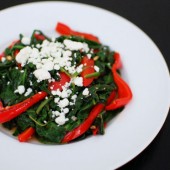 Spinach with Pan Roasted Red Peppers and Goat Cheese
Ingredients:
1 Tbsp olive oil
1 red pepper, sliced into thin strips
3 cloves garlic, minced
7 oz baby spinach
2 tsp lemon juice
salt and pepper
2 oz crumbled goat cheese
Directions:
Heat the olive oil in a pan over medium-high heat and add the peppers.
Cook a couple minutes, until the skins are slightly darkened, and then turn down the heat to medium, continuing to cook for an additional 3 minutes or until tender.
Stir in the garlic and sauté until fragrant.
Add the spinach and cook, stirring occasionally, until wilted.
Stir in the lemon juice and salt and pepper to taste.
Just prior to serving, sprinkle with goat cheese.
4 Responses to "Fire Roasted Tomato Soup with Roasted Chickpeas"
Leave a Comment