Salted Caramel Sauce
Caramel sauce might be one of Hubby's favorite things ever. He will always choose a caramel treat over a a chocolatey treat. I've just recently gotten more comfortable making my own caramel sauce. It actually is so much easier than I thought it was. Having a candy thermometer is a must for making caramel at home. But that's really all you need. If you haven't made your own caramel sauce, do it. Trust me, it's worth the minimal effort required.
I ended up making a triple batch of this salted caramel during the holidays. I ordered some cute jars online and gave them away as gifts to some family members. Hubby also enjoyed a bunch of this caramel sauce heated up over vanilla ice cream.
One Year Ago: Crunchy Nut Encrusted Chicken Tenders
Two Years Ago: BBQ Chicken Pizza Sticks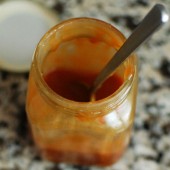 Salted Caramel Sauce
Salted caramel sauce is easier to make than you could ever imagine. And it makes a great gift!
Ingredients:
1 cup water
2 cups sugar
1 cup heavy cream
2 Tbsp cold unsalted butter
1 tsp fleur de sel
Directions:
Add water to a 2-qt saucepan. Gently add the sugar to the center of the pot - it will mound, that's fine. Cover the pot and bring to a boil over high heat.
Once boiling, uncover the pot and insert a candy thermometer. Continue cooking until the mixture registers 300 F and is just starting to develop some color, about 15 minutes.
Reduce heat under the pot to medium and cook until the syrup is amber and registers 350 F on the thermometer, about another 5 minutes.
Meanwhile, pour the cream into a small saucepan and bring to a simmer. If it simmers before the syrup is ready, just take it off the heat and set aside.
Remove the caramel from the heat and add about 1/4 of the warm cream to the pot. It will bubble furiously so be careful. Once the bubbling subsides, add the remaining cream. When it stops bubbling, whisk gently to incorporate fully. Add the butter and the salt and whisk to combine.
Refrigerate up to 1 month.
5 Responses to "Homemade Holiday Gifts 2013"
Leave a Comment