BBQ Chicken Pizza Sticks
Hubby and I aren't big pizza people. If we do it pizza, it's homemade and we rarely order pizza. There is one place near us that we do order from, Upper Crust. We love their Bub's BBQ Chicken pizza.
When I saw these pizza sticks come up on Lauren's blog, they reminded me of the Upper Crust pizza that we love. I served these pizza sticks during the appetizer portion of the party. I loved Lauren's idea of cutting them into sticks. Everyone really enjoyed these pizza sticks and they were one of the first things to disappear at our Superbowl party!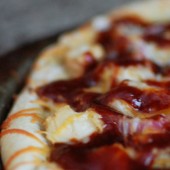 BBQ Chicken Pizza Sticks
BBQ Chicken Pizza is awesome. By cutting the pizza into strips, it quickly becomes and easy appetizer.
Ingredients:
1 pizza crust - homemade or store bought
1 cup shredded mozzarella
1 cup shredded pizza cheese mix
3/4 lb chicken tenders
1 small red onion, sliced
1 cup BBQ sauce, plus more for dipping
Directions:
Season chicken with salt and pepper. Cook in a skillet until opaque and cooked through. Chop into small pieces. This can be done ahead of time.
Place dough in pizza pan. Spread 1/2 cup of each of the cheeses onto the crust. Sprinkle chicken pieces over cheese. Sprinkle onion pieces over chicken. Drizzle 1 cup BBQ sauce over pizza. Last, sprinkle the remaining cheese over pizza.
Bake according to the directions on your pizza crust or until cheese is melted. I used Trader Joe's pizza crust so I baked at 425 for 8-10 minutes.
Allow pizza to cool 5-10 minutes, then slice into stick. I like to use kitchen sheers to cut pizza. Serve with additional BBQ sauce for dipping.
4 Responses to "Caramelized Onions"
Leave a Comment