The Ultimate Whoopie Pies
I've been hearing that whoopie pies are the new cupcake. I'm not sure how I feel about that statement. Whoopie pies do have some similar attributes to cupcakes. You can make them with just about any cake and frosting combination you can think of. And they're portable. You can make thing big or small.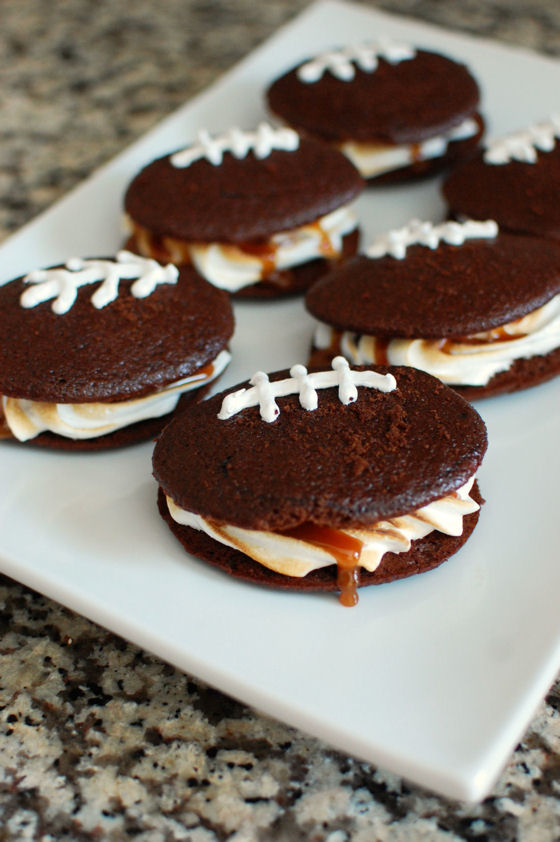 I decided to give whoopie pies a shot. I used my go-to chocolate cupcake recipe for the cake/cookie part. When I started to think about filling options, I kept coming back to the jar of salted caramel sauce I had in the fridge. I whipped up a few batches of the caramel sauce to give for holiday gifts and still had half a jar left for me and Hubby to enjoy.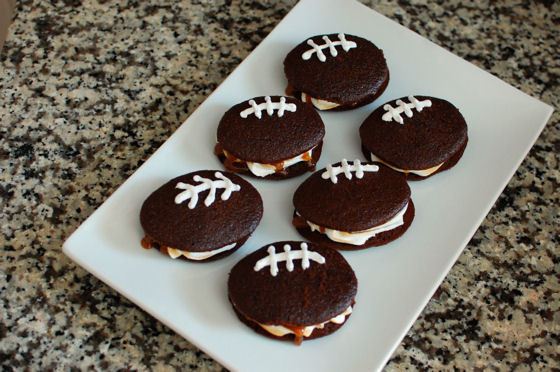 I knew I could make caramel frosting but I really wanted the caramel to shine on it's own. Then one morning, it hit me. Marshmallow frosting. But not just any marshmallow frosting. Toasted marshmallow frosting. I mean, marshmallow frosting is great, but when you toast it – WOW.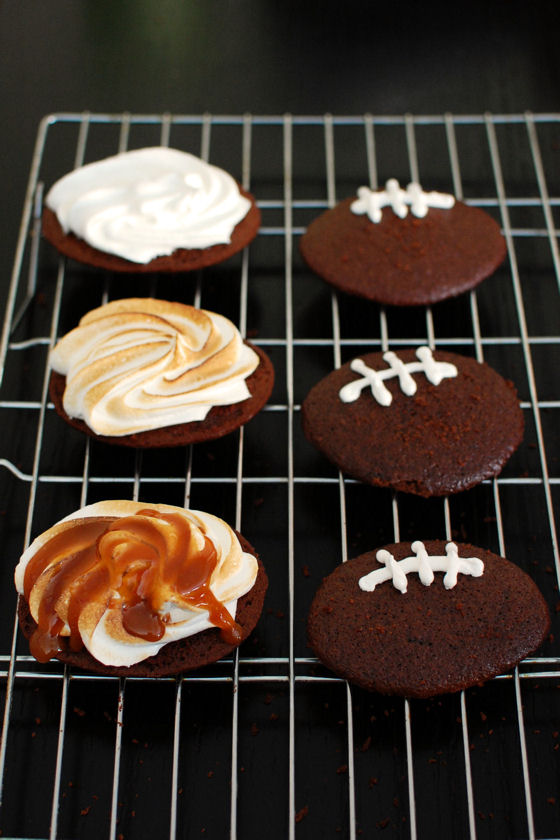 So there you have it. These Ultimate Whoopie Pies are composed of chocolate cake, toasted marshmallow frosting, and salted caramel sauce. Seriously, these are the best whoopie pies ever. I decided to make these guys in the shape of a football since I was sharing them with friends at a football watching party.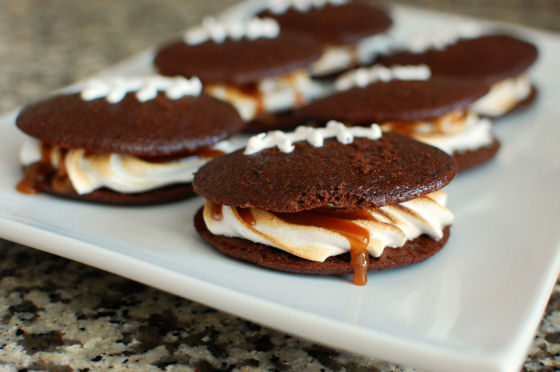 Marshmallow frosting doesn't hold up very well, so you can make the caramel sauce and the cake parts in advance. Then make the marshmallow frosting and assemble the whoopie pies the day that you plan to serve them.
Three Years Ago: Apple Spice Bars
Four Years Ago: Lemon Meringue Cup-pies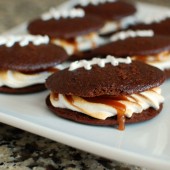 The Ultimate Whoopie Pies
These really are the ultimate whoopie pies - with toasted marshmallow frosting and salted caramel sauce sandwiched between chocolate cake.
Directions:
For the Marshmallow Frosting
Place egg whites, sugar, and cream of tartar in the heatproof bowl of an electric mixer. Set over a saucepan with simmering water. Whisk constantly until sugar is dissolved and whites are warm to the touch, 3 to 4 minutes.
Transfer bowl to electric mixer fitted with the whisk attachment, and beat, starting on low speed, gradually increasing to high, until stiff, glossy peaks form, 5 to 7 minutes. Add vanilla, and mix until combined. Use immediately.
Transfer frosting to a large pastry bag fitted with a large plain round or French tip. Pipe frosting in a spiral motion on each cupcake. Transfer cupcakes to a baking sheet. Using a kitchen torch, lightly brown the frosting, taking care not to burn the cupcake liners. Serve immediately or store in an airtight container, up to 2 days.
For the Whoopie Pies
Preheat oven to 350 F. Place a silicone baking sheet or parchment paper on a cookie sheet.
Once cupcake batter is ready to use, transfer to a piping bag with a medium round tip. Pipe batter into a small circle ~2" in diameter. If making football shaped whoopie pies, pipe into a football shape.
Bake for 8 minutes or until done. Allow to cool on cookie sheet two minutes before removing to a cooling rack.
Pair up the whoopie pies to similar sized and shaped pairs.
Once they have cooled completely, pipe a generous amount of marshmallow frosting onto one of each of the pairs. Toast the marshmallow frosting with a small kitchen torch.
Drizzle with salted caramel sauce. Top with matching whoopie pie pair.
5 Responses to "Cookies-N-Cream Cupcakes – Take 2"
Leave a Comment