Homemade Hot Cocoa Mix
I'm definitely not the first food blogger to post a recipe for homemade hot cocoa mix. And I definitely won't be the last. That's because it makes such an easy and fun homemade gift, and I just couldn't resist.
I used Ghirardelli chocolate and cocoa in mix. Of course, Hubby loved having an excuse to eat more homemade marshmallows and threw quite a few in his cup of hot cocoa!
One Year Ago: Green Bean Casserole
Two Years Ago: Snickerdoodles and Candy Cane Kiss Cookies
Three Years Ago: Chocolate and Peanut Butter Biscotti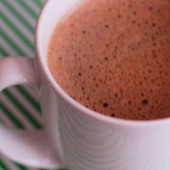 Homemade Hot Cocoa Mix
Yield: 76-2 Tbsp servings
Ingredients:
2 vanilla beans
4 cups granulated sugar
24 oz high-quality semisweet chocolate, coarsely chopped
9 oz dark chocolate, coarsely chopped
2 cups Dutch process cocoa
Directions:
Split and scrape vanilla beans and place in a large bowl or jar with the sugar. Work seeds into the sugar with your fingers. Bury the pods under the sugar. Cover tightly and let stand overnight (or up to months–vanilla sugar keeps forever) at room temperature.
In a food processor fitted with metal blade, process semisweet chocolate and dark chocolate until finely ground, using 4-second pulses. Process in batches, if necessary.
Remove pod from sugar. Add ground chocolate and cocoa powder to sugar and whisk to blend, making sure to combine well. Store mix airtight at room temperature for up to six months.
Assemble your gifts:
Scoop 1 1/2 cups of cocoa mix into a medium sized bag. Attach a tag with the following note: Heat 8 oz milk on med-high heat until scalded. Add 2 Tbsp cocoa mix and whisk until smooth. Top with a marshmallow. Makes 12 servings.
10 Responses to "Raspberry Cheesecake Swirl Brownies"
Leave a Comment