Roasted Pumpkin and Squash Soup with Sage
I saw this Sweet Potato Soup in my Google Reader and it inspired me. I went home that night and whipped up this soup. I didn't follow Amy's recipe, but I just kept imagining that picture of the bowl of warm creamy soup.
I used homemade pumpkin puree and ambercup squash that I had in the fridge but you could use either squash or pumpkin when making this. I would recommend using homemade puree here because the smooth texture and pumpkin flavor really shine in this soup. In a pinch, you could obviously use the canned stuff..
One Year Ago: Spinach with Pan Roasted Red Peppers and Goat Cheese
Two Years Ago: Overnight French Toast
Three Years Ago: Raspberry Meringue Cookies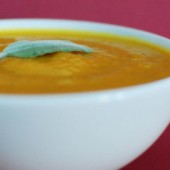 Roasted Pumpkin and Squash Soup with Sage
Ingredients:
2 Tbsp olive oil
2 shallots, chopped
3 cloves garlic, minced
25 oz (2 1/2 cups) pureed roasted pumpkin, squash, or a combination of the two
4 cups chicken or vegetable broth
1/4 cup chopped fresh sage
1/2 tsp freshly ground nutmeg
1/4 tsp smoked paprika
1 tsp salt
1/3 cup heavy cream
Directions:
Heat olive oil over medium heat in a dutch oven or other large pot. When the oil is warm, add the shallots and allow to cook until they start to turn translucent. Add the garlic and stir. Cook until aromatic, about 30 seconds.
Stir in the puree and broth. Add sage, nutmeg, smoked paprika, and salt. Bring soup mixture to a boil, then lower heat and simmer for 20 minutes.
Add the heavy cream and taste for seasoning. Add more salt if necessary and simmer another 5 minutes. Puree with an immersion blender or in batches in a blender.
3 Responses to "Black bean and butternut squash quesadillas"
Leave a Comment