Spiced Butternut Squash Cupcakes
Yes, you read that correctly. I put butternut squash in a cupcake. It's really not that far fetched… You shred raw butternut squash and stir it into the batter similar to a carrot or zucchini cake.
I have been following Mary at the Food Librarian for quite some time now. Have you seen her blog? It's awesome. Well she loves bundt cakes and celebrates National Bundt Day (Nov 15 in case you missed it) by making 30 bundts in a I Like Big Bundts challenge leading up to the 15th. I love watching her bundts pop up every day and always since some Sir Mix Alot in my head while reading about her bundts. I was bummed I couldn't make a bundt to participate this year, but maybe I will next year.
Sorry for all the rambling. The point is, I saw this bundt recipe in Mary's blog for a bundt with butternut squash in it. I was hoping to find a great dessert recipe that used butternut squash to feature this week as an interesting twist to butternut squash. I knew this was my recipe the second I saw the pictures.
And to top it off, I love trying new flavors and ingredients and I had never had crystalized ginger. I took a bite of the ginger by itself and I wasn't a fan. But when combined with the cupcake, the spiced frosting, and the ginger on top, it was perfect.
I can't fully describe how awesome these cupcakes were, but they were definitely one of my favorites of all time. The cake is very moist and tender. The frosting and ginger compliment the cake with a hint of nutmeg and ginger. Basically they're awesome and you should make them.
One Year Ago: Caramel Almond Cranberry Tart and Cranberry Apple Pumpkin Muffins
Two Years Ago: Chocolate Chunk Cookies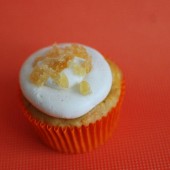 Spiced Butternut Squash Cupcakes
Ingredients:
For the Cupcakes
4 oz (1/2 cup or 1 stick) unsalted butter, softened
13 1/2 oz. (3 cups) flour
1 1/2 cups sugar
1/4 cup vegetable oil
1/4 cup unsweetened applesauce
2 eggs
1 Tbsp white vinegar
2 tsp vanilla
1 tsp baking soda
1 tsp salt
1/2 tsp ground ginger
1/4 tsp freshly grated nutmeg
3/4 cup buttermilk
2 1/4 cups peeled and grated butternut squash (about 8 oz.)
For the Frosting
16 tablespoons (2 sticks) unsalted butter, softened
2 - 2 1/2 cups Confectioners' sugar
pinch salt
2 tsp vanilla extract
2 Tbsp buttermilk
1/4 tsp freshly ground nutmeg
1/4 cup crystallized ginger, chopped
Directions:
For the Cupcakes
Position a rack in the center of the oven and heat the oven to 325. Place 24 cupcake liners in muffin pans.
In a large bowl with a hand mixer or in a stand mixer fitted with the paddle attachment, beat the butter and sugar on medium speed until well combined, about 1 minute.
Add the oil and applesauce and beat until combined, about 15 seconds.
Add the eggs one at a time, mixing well on low speed.
Add the vinegar and vanilla and mix again until just combined.
Add half of the flour and the baking soda, salt, ginger, and nutmeg, mixing on low speed until just combined.
Add half of the buttermilk and mix until just combined. Repeat with the remaining flour and buttermilk.
Stir the squash into the batter and transfer the batter to the prepared cupcake pans.
Bake until a cake tester inserted in the center comes out clean, 22-25 minutes. Cool completely on a wire rack.
For the Frosting
In standing mixer fitted with whisk attachment, beat butter at medium-high speed until smooth, about 20 seconds.
Add confectioners' sugar and salt; beat at medium-low speed until most of the sugar is moistened, about 45 seconds. Scrape down bowl and beat at medium speed until mixture is fully combined, about 15 seconds.
Scrape bowl, add vanilla, nutmeg, and buttermilk, and beat at medium speed until incorporated, about 10 seconds, then increase speed to medium-high and beat until light and fluffy, about 4 minutes, scraping down bowl once or twice.
Once cupcakes have cooled completely, pipe frosting onto each one. Top with chopped crystallized ginger.

Boston area readers, don't forget that I'm selling pies for Pie In the Sky. The cost of your pie will feed someone in need for an entire week! Please consider buying a pie for a good cause.
Leave a Comment