Beef Stew
I cannot believe how fast the year has FLOWN by. I know we all say it all the time, but seriously, it's less than 3 weeks until Christmas. It feels like summer just ended… One things I've been fun having to do this year is participate in Secret Recipe Club. As you remember, this club is a group of bloggers who draw the name of another blogger out of a hat. Then you make something from that blog and everyone posts about it on the same day.
The group has gotten so big that there are actually 4 sub-groups so there are people revealing their SRC post every Monday of the month. Every month I've been introduced to a new blog that I had never heard of before, so it's been a lot of fun. This month, my assignment was Cookbook of Trial and Error.
Since the weather started turning cooler I was craving some comfort food. This beef stew absolutely hit the spot. I made a few changes from the original recipe based on what we had in the house and our personal preferences. I also double the recipe so that we would have leftovers to take in our lunches.
I've never made beef stew before and I'm so glad to have found this recipe. It smelled amazing while it was cooking and tasted even better.
Two Years Ago: M&M Surprise Cookies
Three Years Ago: Cinnamon Pork with Sweet Potatoes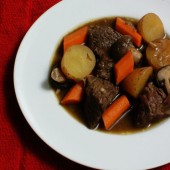 Beef Stew
Ingredients:
3 lbs chuck roast, cut into 1 1/2 inch pieces
4 tbsp olive oil
1 1/2 cup dry red wine
2 medium yellow onions, roughly chopped
6 garlic cloves
1/4 cup flour
1 cup chicken broth
2 bay leaf
2 sprigs of thyme
1 1/2 lb small new potatoes, quartered
16 oz baby Bella mushrooms, cut in half
1 lb carrots, peeled and chopped
salt and pepper
Directions:
Pat the beef dry with paper towels and season generously with salt and pepper.
Heat a Dutch oven on high heat for 2 minutes, until hot, add 2 Tbsp of olive oil and the beef. Lower the heat to medium high and cook the beef for 3-4 minutes, turn the beef and cook for 5 more minutes.
Add 1/2 cup of wine and cook for 5 more minutes. Transfer the beef to a bowl. Sprinkle the flour over the beef and toss to coat. Pour any liquid into a measuring cup and reserve for use later.
Add 2 Tbsp olive oil, the onions and a pinch of salt to the Dutch oven and cook over medium heat for about 5 minutes until the onions become translucent. Add the garlic, stir and cook for about 30 seconds. Add the reserved liquid, 1 cup wine, 1 cup chicken broth. You should add a total of 3 1/2 cups of liquid. If you did not have 1 1/2 cups reserved, add more wine or broth. Add the bay leaf and the thyme, scrape the edges of the pan and bring to a simmer.
Add the meat back to the pot, and when it comes to the simmer again, cover the pot with the lid and place in an oven preheated to 375F. Cook for an hour.
While the meat is cooking, chop the vegetables. After an hour, add the vegetables to the pot. If needed, add more wine or broth (a cup or two should be good). Taste and adjust the seasoning and place in the oven for 1 more hour to cook.
4 Responses to "Goat Cheese and Spinach Mashed Sweet Potatoes"
Leave a Comment