Shortbread Cookies
Shortbread Cookies are a classic cookie that is often overlooked. I was always the weird one who ordered a box of shortbread cookies while others were ordering caramel delights and thin mints. I had no idea making Shortbread Cookies was so easy. Three simple ingredients come together in just a few minutes. You could be enjoying a Shortbread Cookie about 20 minutes after you print this recipe.
My sister thought these would be better with some sprinkles on them. In fact, she rolled some of her Snickerdoodles in sparkly sprinkles and we dubbed them Sparkledoodles. But I digress. I do agree that these could be made even more festive by rolling the edges in some sprinkles.
Two Years Ago: Goat Cheese and Tomato Tarts and S'mores Cookie Bars
Three Years Ago: Black Bean Cakes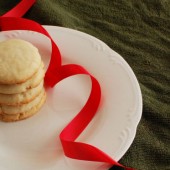 Shortbread Cookies
Ingredients:
1 cup butter, softened
1/2 cup powdered sugar
2 cups flour
Directions:
Cream butter and powdered sugar. Add flour gradually and stir, eventually working with hands.
Form into balls and place on a cookie sheet. Flatten with a cookie press, fork, or bottom of a glass.
Bake at 350 for 15 minutes or until just slightly browned at edges.
2 Responses to "Chocolate Root Beer Bundt Cake"
Leave a Comment