S'mores Cookie Bars
Marshmallow fluff is something I have never eaten. I don't know if it's because I grew up in the Midwest or what… This recipe called for marshmallow fluff so I was excited to be able to check this fluff out and see what all the buzz is about. Marshmallow fluff is interesting. Since I had to use the entire jar for the bars, I didn't get a chance to try a fluffer-nutter sandwich.
My sister B and I agreed that the proportions seemed a bit off on these bars. The chocolate was thick and seemed to overpower the other flavors in a classic S'mores. I think next time I would use regular Hershey's bars instead of the king-sized ones which are pretty hefty.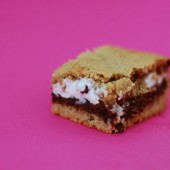 S'mores Cookie Bars
Ingredients:
1/2 cup butter, room temperature
1/4 cup brown sugar
1/2 cup sugar
1 large egg
1 tsp vanilla extract
1 1/3 cups all purpose flour
3/4 cup graham cracker crumbs
1 tsp baking powder
1/4 tsp salt
2 king-sized milk chocolate bars (e.g. Hershey's)
1 1/2 cups marshmallow creme/fluff (not melted marshmallows)
Directions:
Preheat oven to 350°F. Grease an 8-inch square baking pan.
In a large bowl, cream together butter and sugar until light. Beat in egg and vanilla. In a small bowl, whisk together flour, graham cracker crumbs, baking powder and salt. Add to butter mixture and mix at a low speed until combined.
Divide dough in half and press half of dough into an even layer on the bottom of the prepared pan. Place chocolate bars over dough. 2 king-sized Hershey's bars should fit perfectly side by side, but break the chocolate (if necessary) to get it to fit in a single layer no more than 1/4 inch thick. Spread chocolate with marshmallow creme or fluff. Place remaining dough in a single layer on top of the fluff.
Bake for 30 to 35 minutes, until lightly browned. Cool completely before cutting into bars.
One Response to "Holiday Peppermint Popcorn Bark"
Leave a Comment