Strawberry Shortcake Cookies
I can't believe a week of strawberries is coming to an end. It went so fast and I'm sad to see it ending. I hope that I have given you some ideas of how to use up those strawberries while they're ripe and delicious.
For the final recipe, I bring you a Martha Stewart recipe that is sure to impress. These cookies really do have the texture and flavor of a strawberry shortcake the day they're baked. The next day there were a bit softer, but still delicious.

Hubby took these to work with great reviews. Everyone enjoyed them. I think one of his coworkers had 6 of them!!

I will definitely be making these little guys again. The batter came together really easily and the long baking time was kind of nice since I was doing other chores around the house when I baked these.

One Year Ago: Blondies
Check out my entire week of Strawberry recipes here.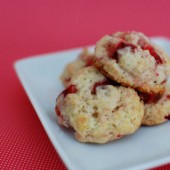 Strawberry Shortcake Cookies
Ingredients:
2 cups strawberries, hulled and cut into 1/4-inch dice
1 tsp fresh lemon juice
9 Tbsp granulated sugar
2 cups all-purpose flour
2 tsp baking powder
1/2 tsp coarse salt
6 Tbsp cold unsalted butter, cut into small pieces
2/3 cup heavy cream
Sanding sugar, for sprinkling
Directions:
Preheat oven to 375 degrees. Combine strawberries, lemon juice, and 2 tablespoons granulated sugar. Whisk together flour, baking powder, salt, and remaining 7 tablespoons granulated sugar in a large bowl. Cut in the butter with a pastry cutter, or rub in with your fingers, until mixture resembles coarse crumbs. Stir in cream until dough starts to come together, then stir in strawberry mixture.
Using a 1 1/2-inch ice cream scoop or a tablespoon, drop dough onto baking sheets lined with parchment, spacing evenly apart. Sprinkle with sanding sugar, and bake until golden brown, 24 to 25 minutes. Transfer to a wire rack, and let cool. Cookies are best served immediately, but can be stored in an airtight container at room temperature for up to 1 day.
5 Responses to "Strawberry, Avocado, Goat Cheese Sandwich"
Leave a Comment