Baked Zucchini Sticks with Caramelized Onion Dipping Sauce
Yesterday in Boston was BEAUTIFUL. Made me glad that I'm holding on to summer with all that I have. I've definitely moved into the late-summer produce. We're getting a lot of squash and potatoes in our CSA box instead of the corn and tomatoes of a few weeks ago… Luckily I really like squash and potatoes and they don't scream fall (at least not to me).
A few weeks ago, I went to a lovely picnic with some of my favorite ladies in town. I brought these baked zucchini sticks and they were a huge hit. I have to admit that burned my tongue while taste testing a few of these straight out of the oven. The coating is made with bread crumbs and parmesan cheese. The zucchini sticks get nice and crispy in the oven and they taste AMAZING. Especially with the caramelized onion dipping sauce that accompanies them.
While I'm on the topic of the sauce… It is also amazing in it's own right. When you mix caramelized onion with some homemade mayo, how could it not be great? It really compliments the flavor of the baked zucchini sticks. And, after the baked zucchini sticks were all gone, Hubby and I enjoyed the sauce on sandwiches in place of mayo. If you still have some zucchini hanging around, I highly recommend making these baked zucchini sticks. You definitely won't regret it.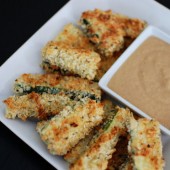 Baked Zucchini Sticks with Caramelized Onion Dip
Yield: Serves 4 as appetizers
Ingredients:
For the Caramelized Onion Dipping Sauce:
1 Tbsp butter
1 medium sweet onion, about 1/2 pound, peeled and sliced
2 Tbsp cider vinegar
2 Tbsp honey
1 Tbsp prepared mustard
1/4 cup mayonnaise
salt and pepper to taste
For the Zucchini Sticks:
3 medium zucchini, unpeeled, cut into 3"-long stick
1 Tbsp salt
1 cup Panko bread crumbs
1/2 cup freshly grated Parmesan cheese
1 Tbsp oregano
1/2 cup flour
olive oil spray
2 large eggs, lightly beaten
Directions:
To make the dipping sauce:
Melt the butter in a medium frying pan over moderate heat, and add the sliced onions. Cook, stirring occasionally, until the onions soften, then caramelize. This should take between 10 and 15 minutes. The lower the heat, the longer it takes, but the less likely you are to burn the onions.
Once the onions are a medium brown, remove from the heat and add the vinegar.
Place the onions and vinegar into a small food processor. Add the honey and mustard, and process or blend until smooth.
Add the mayonnaise and salt and pepper to taste, stirring to combine. Refrigerate, covered, until ready to serve.
To make the zucchini sticks:
Place the zucchini sticks in a colander over a bowl and sprinkle with the tablespoon of salt. Let the zucchini drain for 1 hour or longer; rinse and pat dry.
Preheat the oven to 425°F. Line a baking sheet with parchment, and spray the parchment with olive oil.
Set up your zucchini dredging by placing the flour in a shallow bowl, the eggs in another shallow bowl, and the panko, parmesan, and oregano in a third shallow bowl. Dredge sticks in the flour, then egg, then roll in the crumb mixture. Place the sticks on the prepared baking sheet.
Bake sticks for 12 minutes, turn over, and bake for an additional 8 minutes, until golden brown and crisp.
Serve immediately, with caramelized onion dip.
Leave a Comment