Pink Lemonade Cupcakes

Today is the last day of cupcake week. I hope you guys have enjoyed it as much as I have (be sure to enter in my cupcake giveaway by midnight Aug 28th). I wanted to make something light and summery and when I saw these in my Google Reader earlier this week, I knew they'd fit the bill. Pink lemonade is the perfect summertime beverage. It just doesn't feel right to drink it any other time of year. And, they're so darn cute with the pink frosting and pink cake.
For the frosting on these guys, I added an extra two Tbsp of the concentrate and also a couple Tbsp of milk to thin it out. Hubby thought these cupcakes were too sweet because of the frosting, but that's so something he'd say. I loved them. I was eating the leftover frosting by just piping it onto my finger. It is very sweet, and very good. Although next time, I might use more milk and less of the concentrate to help Hubby's lack of a sweet tooth!
I am also submitting these as my entry for Flavor of the Month on Bake at 350. This month, the flavor is Pucker Up! (lemon or lime)
Don't forget to enter in my 2nd blogiversary giveaway by midnight on August 28th!
Check out my week of cupcakes here.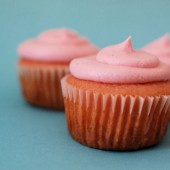 Pink Lemonade Cupcakes
Ingredients:
For the Cupcakes
2 cup flour
1 tsp baking powder
1/2 tsp baking soda
Pinch salt
1 cup sugar
1/2 cup vegetable oil
4 egg whites
2/3 cup thawed frozen Pink Lemonade Concentrate
1/2 cup buttermilk
Pink food coloring
For the Frosting
3 cups + 3 Tbsp powdered sugar
1 stick unsalted butter at room temperature
1/8 tsp salt
2 Tbsp pink lemonade concentrate
Milk to reach desired consistency
Pink food coloring
Directions:
For the Cupcakes
Preheat oven to 350F. Line muffin pan with liners. In a small bowl, combine flour, baking powder, baking soda and salt. Set aside.
In a large bowl, whisk together sugar, oil, egg whites and lemonade concentrate. Alternately whisk in flour mixture and buttermilk, making three additions of flour mixture and two of buttermilk, beating until just smooth.
Add just enough food coloring to turn the batter a light shade of pink.
Scoop batter into liners (fill about three-fourths full). Bake in preheated oven for 20-25 minutes or until tops of cupcakes spring back when lightly touched. Let cool in pan on rack for 10 minutes. Remove from pan and let cool completely on rack. Top cooled cupcakes with frosting (see below).
For the Frosting
Add the butter, confectioner's sugar, salt, lemonade concentrate, and a few drops of food coloring to the stand mixer and mix on low using the paddle attachment until combined.
I wanted to clarify my comments above about the frosting being too sweet. I was silly and added 4 Tbsp of the pink lemonade concentrate to try to thin it out. Then I tasted it and was like what the heck and I doing! I should be adding milk to thin it out. So if you use the recipe as written with the 2 Tbsp, I don't think it will be too sweet. Just use milk to thin in instead of more concentrate like me!
Turn the speed to med-high until the buttercream is fluffy and uniformly pink. Pipe or spread onto cooled cupcakes.
3 Responses to "Cherry Brownie Cheesecake"
Leave a Comment