Banana Bread
Now that black Friday is upon us, some people are out fighting the crowds for a great deal. Personally, I've never been one for shopping on black Friday. I'd rather just lounge around and enjoy my food hangover and cold turkey sandwiches.
It's very common around our families to enjoy some foods that you can just graze on during black Friday. Banana bread, apple cake, monkey bread, or pumpkin bread are favorites of mine. Banana bread is such a classic that I feel like everyone has their own recipe. This one comes from Hubby's Nana. Hubby grew up loving it so he loves when I make it for him.
Like most breads, this banana bread freezes wonderfully. I like to make this recipe into mini-loafs or muffins so I can freeze some. And, when blueberries are in season, I like to throw in a cup or so of blueberries as well.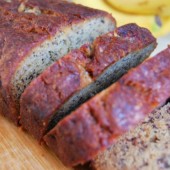 Banana Bread
Ingredients:
1 c sugar
1/4 c shortening
1 egg
3 ripe bananas, mashed
1 3/4 c flour
1 tsp baking soda
dash salt
Directions:
Preheat oven to 350.
Sift together flour, baking soda, and salt. Set aside.
Cream shortening and sugar together. Add egg and beat. Add mashed bananas and mix together. Add dry ingredients and mix.
For bread: grease a loaf pan. Pour batter into pan and sprinkle with cinnamon/sugar. Bake for 55-65 minutes or until a toothpick inserted in center comes out clean.
For muffins: line muffin tin with cupcake liners. Portion batter into muffin tin and bake for 20-25 min. Makes ~10 muffins.
6 Responses to "Gingerbread Apple Upside Down Cake"
Leave a Comment