Pumpkin Spice Cheesecake Brownies
Fall has definitely arrived! With all the delicious soups, chili, and baking with apples and pumpkin, it's by far the most fun food season. These bars have popped up all over the Internet after showing up in Cara's blog two years ago. Hubby has been asking for these bars for about two weeks now. With the shortage of canned pumpkin going on right now, I couldn't make these until now because I just couldn't find canned pumpkin!
I made these when we had some overnight guests and everyone loved them. We got impatient and cut them after they had cooled for about a hour. They hadn't been chilled so they were still a bit gooey and warm. They're delicious at this point and also after they've been chilled (the pumpkin flavor really shines once they've chilled).
I made a few adjustments to Cara's recipe. One of the bloggers who made these said she wished there was more of the pumpkin mixture, so I upped that part of the recipe. Cara's original recipe called for 6 oz of cream cheese and since a block of cream cheese is 8 oz, I just adjusted the other ingredients of the cheesecake portion so that it would use a full block of cream cheese. My adjustments are shown below.
I also don't tend to think of pumpkin and chocolate together. It seems to me that white chocolate or cream cheese frosting are natural partners with pumpkin. The more I thought about it, the more I thought that dark chocolate would pair with pumpkin better than milk chocolate. So in the brownie portion of these bars, I used some dark cocoa.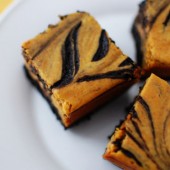 Pumpkin Spice Cheesecake Brownies
Ingredients:
For the Brownie Batter
3/4 cup butter, melted
1 cup sugar
1 tbsp pure vanilla extract
2 eggs
1/2 cup all purpose flour
1/2 cup dark cocoa powder
1/4 tsp salt
2 tsp cinnamon
For the Cheesecake Batter
8 oz cream cheese, softened
1 egg
1/2 cup sugar
2 Tbsp + 2 tsp flour
2/3 cup pumpkin puree
1/3 tsp pure vanilla
2/3 tsp cinnamon
1/3 tsp ground ginger
1/3 tsp ground cloves
Directions:
Preheat oven to 350F. Grease an 8x8" square metal baking pan.
Beat together melted butter, sugar, and vanilla, then beat in eggs one at a time. Combine dry ingredients and then gradually stir into butter mixture with a wooden spoon. In separate bowl, beat together cheesecake batter ingredients.
Spread about 2/3 of chocolate batter into prepared pan, and spoon cheesecake batter over. Dollop remaining brownie batter over cheesecake batter. Swirl the batters together by running a butter knife back and forth through the pan.
Bake for 40 minutes, or until center is set. Cool completely on wire rack and chill before cutting and serving.
4 Responses to "French Silk Pie Bars"
Leave a Comment