Sweet and Spicy Bacon Wrapped Butternut Squash
Bacon. That was the one word Hubby gave me when I asked him what he wanted to see in my week of butternut squash recipes.
So I set out to find a bacon and butternut recipe. Once I saw this picture on Tastespotting, there was no question. Duh, everything wrapped in bacon is amazing. Since Hubby suggested it, he offered to cook this recipe for me. It does require a bit of time to ensure the bacon gets cooked all the way through.
All the turning and brushing with the syrup really paid off. The bacon has a great sweet and spicy flavor. And you get a lovely sweet and salty combo when you take a bite because of the bacon. Basically, this is awesome. It would make a great appetizer year-round.
I had to make some modifications to the recipe based on what I had in the house. I didn't have any sage, so I used oregano. And we were short on maple syrup so I subbed some honey for half of what the recipe needed. Be sure to check out the original recipe to see how it was originally written.
One Year Ago: Crockpot Cranberry Pork Roast
Two Years Ago: Depths of Fall Butternut Squash Pie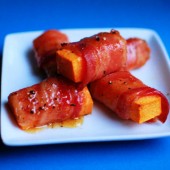 Sweet and Spicy Bacon Wrapped Butternut Squash
Ingredients:
1/4 cup maple syrup
1/4 cup honey
1/2 Tbsp dried oregano
1 jalapeno chile, seeds and placenta removed.
1 tsp Kosher salt
1/2 tsp black pepper cracked or ground fresh
1 lb butternut squash Cut into 1 in x 4 in sticks (that weight is post-processed)
1/2 lb bacon About 18-20 half-slices
Directions:
Bring maple syrup, honey, oregano, and jalapeno just to a boil in a small saucepan over medium heat. Reduce heat to low and continue to simmer for 10 minutes.
For the butternut squash, preheat oven to 425F. Split each squash transversely at the beginning of the bulbous area where the seeds begin. Peel and cut the seedless end into 4-5 inch long sticks that are roughly a square inch thick. Wrap each squash stick with a half-strip of bacon and place on a wire rack nested in a pan (to catch the ensuing greasy mess). Season with the salt and pepper blend to taste.
Roast for 15 minutes, remove from the oven and brush liberally with the maple glaze. Roast for another 15 minutes, taking care to brush on more glaze at the 7.5 minute mark and finally as the squash comes out of the oven. Let rest 5-10 minutes before serving. Garnish with any additional maple glaze.

Boston area readers, don't forget that I'm selling pies for Pie In the Sky. The cost of your pie will feed someone in need for an entire week! Please consider buying a pie for a good cause.
6 Responses to "Roasted Zucchini"
Leave a Comment