Crockpot Cranberry Pork Roast
Today's cranberry recipes features BOTH dried cranberries and fresh cranberries! Bonus points for that. Did you know that you can freeze fresh cranberries? I didn't know that until this year. In fact, on the bag of cranberries that I picked up the other day, it said "Buy two bags, freeze one" It says on the bag to just throw the bag into the freezer as it is. I've been doing this because we both love the flavor of cranberries and I'd love to have them in the house even when they're out of season.
I wanted to feature at least one savory cranberry dish this week. This recipe couldn't have been any easier. I always say that I love the no-fuss crockpot meals. This one is definitely no fuss. Just throw everything in the crockpot, turn it on low and forget about it until you walk in the door from work to a wondering smelling pork roast.
Hubby and I both really enjoyed this pork. The meat itself was very tender and fell apart as we filled up our plates. The cranberries provided a sweet and tart flavor combination that was unique. Don't worry, it wasn't overly sweet at all. We agreed that we will definitely be making this again. It did make quite a bit of meat, so we froze half of it for a quick meal in the future when we don't have time to cook.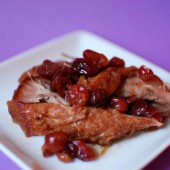 Cranberry Pork Roast
Ingredients:
1 (2.5-3 lb) pork loin roast or rib roast
1 teaspoon ground ginger
1/2 teaspoon dried mustard - I didn't have any so I used a bit of prepared mustard
1/2 teaspoon salt
1/4 teaspoon pepper
2 tablespoons cornstarch
1 cup fresh cranberries
1/2 cup white sugar
1/2 cup brown sugar
1/3 cup golden raisins - I didn't have any so I used dried cranberries
1 clove garlic, chopped - I used 3
1/3 cup cranberry juice
1/2 small lemon, thinly sliced
Directions:
Use a 4 quart crockpot. In a plastic zipper bag, put dry spices and cornstarch and add meat. Shake to coat. Put contents into your slow cooker.
Add cranberry sauce, or your fresh cranberries and sugar. Put in raisins and garlic. Pour in cranberry juice, and top with lemon slices.
Cover and cook on low for 8 hours, or high for about 4. The longer you cook the meat, the more tender it will be.
Check out my week of Cranberries here.
13 Responses to "Pumpkin Cranberry Pecan Upside Down Cake"
Leave a Comment