Massaged Kale Salad
One of the shows that I enjoy watching is Next Food Network Star. I thought they sent Brad home too early, and I was really starting to like Tom towards the end. I wasn't surprised when Aarti won because I had seen it on Food Network Humor that FoodNetwork.com had leaked the winner. I decided to watch Aarti's first episode to see how it went. When I saw her make this massaged kale salad, I was intrigued. And, since kale is something I've never made at home, this recipe would help me get something done off my 30 by 30 list.
I'm sure I've had kale in entrees when eating out, but like I said, I have definitely never bought it or done anything with it at home. I grabbed a big bunch at the farmers market and gave this recipe a shot. Hubby said that his mom used to make kale when he was young and he never liked it, so he was a bit apprehensive about trying this salad.
I'm sure you're wondering how it was? It was delicious! Hubby said it was the best kale he'd ever had. The kale had a great flavor. It reminded me of a really hearty spinach flavor. The lemony vinagrette and the mango chunks provide a great brightness and sweetness to the salad.
AND, the best thing about this salad is that it keeps in the fridge! We had it the first night as a side dish with some Peppery Lemon Brown Sugar Salmon and the next day we both had some in our lunches. It didn't get super soggy like a dressed lettuce salad would.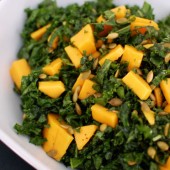 Massaged Kale Salad
Ingredients:
1 bunch kale, stalks removed and discarded, leaves thinly sliced
1 lemon, juiced
1/4 cup extra-virgin olive oil, plus extra for drizzling
Kosher salt
2 teaspoons honey
Freshly ground black pepper
1 mango, diced small
Small handful toasted pepitas (pumpkin seeds)
Directions:
In large serving bowl, add the kale, half of lemon juice, a drizzle of oil and a little kosher salt. Massage until the kale starts to soften and wilt, 2 to 3 minutes. Set aside.
In a small bowl, whisk remaining lemon juice with the honey and lots of freshly ground black pepper. Stream in the 1/4 cup of oil while whisking until a dressing forms, and you like how it tastes.
Pour the dressing over the kale, and add the mango and pepitas. Toss and serve.
7 Responses to "Cinnamon Biscuits"
Leave a Comment