Chocolate and Peanut Butter Pops
Remember those dipped Oreos that I posted last week? Well those aren't the only pops that I made to celebrate baby B's arrival.

I made these peanut butter and chocolate pops as well. You really can't beat the combination of peanut butter and chocolate. And, the Ritz crackers provide a great crunch to these guys. I definitely enjoyed them more than the dipped Oreos, but Hubby prefered the Oreos.

My mom used to make these when I was young only she didn't put a stick in them. Adding the stick did prove to be a big difficult. I had a few that wanted to slide off the stick as I was dipping them in chocolate. Dipping the stick in chocolate prior to sliding them into the peanut butter seemed to help quite a bit.

Once again, my sister L and mom helped me to write a "B" on each one. Then we put them each in a cellophane bag with some ribbon. As I mentioned last week, my brother and his wife were able to take these treats to work to share their excitement about baby B.

One Year Ago: Rhubarb Rolls
Two Years Ago: Chocolate Cupcakes with Cream Cheese Frosting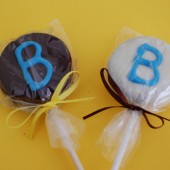 Chocolate Peanut Butter Pops
Ingredients:
Ritz crackers
creamy peanut butter
chocolate for dipping
lollipop sticks
Directions:
Melt a small amount of chocolate in a bowl. Spread a small amount of peanut butter on a Ritz cracker. Dip the tip of a lollipop stick in chocolate and place in peanut butter. Top with another Ritz cracker. Set aside until all crackers are sandwiched together.
Line a cookie sheet with waxed paper. Melt a large amount of chocolate in a bowl. Dip peanut butter pop into melted chocolate. Tap stick on edge of bowl to encourage extra chocolate to drip off. Place on wax paper.
Repeat for all Ritz sandwiches. Once tray is full, place in refrigerator for a few minutes to help the chocolate set up.
8 Responses to "Superbowl Dessert Sneak Peak"
Leave a Comment