It's a boy! Dipped Oreo Pops
A couple weeks ago, my nephew B was born. We were all very excited because he's the first grandchild in the family. I'm still getting used to being called Aunt Jen. I wanted to do something when he made his arrival and decided that the best way to show my adoration of my first nephew was to bake something. Then I got to thinking and decided it would be fun to make treats that the new parents and grandparents could take to work to brag about the new little one.
These dipped Oreo pops were so easy to assemble and came out great. My mom and sister helped me write a B on each pop (we used Wilton candy pens. I had never used them before and they were so easy and worked great!). Then we put them in cellophane bags with some blue ribbon. My brother and sister-in-law took them to work to brag about their new baby boy.

Hubby REALLY enjoyed these guys. I did have to dip them twice for the almond bark to completely cover the dark Oreo cookie. I was worried the coating would be too overpowering, but it wasn't. I don't have any pictures of the final product, but just imagine about a hundred of these guys all wrapped up and ready to go.
See all of my Week Of Oreo Recipes here.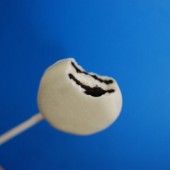 Oreo Pops
Ingredients:
Double Stuffed Oreos
Almond bark or white Wilton candy melts
Lolly-pop sticks
Candy pens for decorating - optional
Directions:
Melt a small amount of the almond bark. Dip the tip of a stick into melted almond bark, then slide into the center of the Oreo. Repeat for all Oreos.
Line a large cookie sheet with wax paper. Melt a larger quantity of almond bark and a fairly deep bowl.
Hold an Oreo by the stick and dip in almond bark. Tap stick on edge of bowl to encourage extra almond bark to drip off. Place on wax paper.
Repeat for all Oreos. Once tray is full, place in refrigerator for a few minutes to help the almond bark set up.
Decorate if desired.
11 Responses to "Oatmeal Chocolate Cinnamon Cookies"
Leave a Comment