Chocolate Oatmeal Almost Candy Bars
After two days of bars without chocolate (!?!) it's time to get some chocolate in here. Dorie Greenspan's Baking: From My Home to Yours is one of my favorite cookbooks. The thing has some heft. It's bigger than a sheet of paper and a couple inches thick. And it's HEAVY! The pictures in it are beautiful and I love reading Dorie's little stories before each recipe.
I told Hubby that I was thinking about these bars. I know the TWD group did them not too long ago, but instead of showing him a picture, I just told him about the ingredients in the bar. He just said "eh" when I told him they had chocolate, peanuts, raisins, and oats. I have to admit, I'm not a huge raisin fan myself, but I was definitely intrigued by the combination and decided to just go for it.
Boy am I glad I did! I think everyone who got to enjoy these gems was glad I didn't just keep searching for another recipe after Hubby was less than enthusiastic about the ingredient list. The raisins give a nice chewiness and sweetness without overpowering the bars. The peanuts and oats give a nice contrast of textures. Overall this bar has it all. They're not overly sweet and definitely hit the spot.
On top of all that, I've been totally digging bars with layers recently. I'm not quite sure why but I have been gravitating towards them. I'm sure you'll see more layered bars in the future!
One Year Ago: Crockpot Pulled Pork
Two Years Ago: Lemon Curd Cookies
Check out my entire week of bars and brownies here.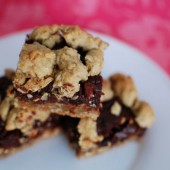 Chocolate Oatmeal Almost Candy Bars
Ingredients:
For the oatmeal layer
2 1/2 cups all-purpose flour
1 tsp baking soda
1 tsp salt
1/2 tsp ground cinnamon
2 sticks unsalted butter, at room temperature
2 cups brown sugar
2 eggs
2 tsp pure vanilla extract
3 cups old-fashioned oats
1 cup salted peanuts, coarsely chopped
For the chocolate layer
14-ounce can sweetened condensed milk
2 cups semi-sweet chocolate chips
2 Tbsp unsalted butter
1/4 tsp salt
1 tsp vanilla extract
1 cup moist, plump raisins
3/4 cup coarsely chopped peanuts, preferably salted
Directions:
Preheat oven to 350. Line a 9x13 pan with parchment paper and place the pan on a baking sheet.
To make the oatmeal layer
Whisk together the flour, baking soda, salt and cinnamon.
Beat the butter on medium speed until it is soft and creamy. Add the brown sugar and beat for 2 minutes, then add the eggs, one at a time, beating after each one. Beat in the vanilla. Reduce the mixer speed to low and add the dry ingredients, mixing just until they disappear. Still on low speed, or working by hand with a rubber spatula, stir in the oats and chopped peanuts.
Set aside 1 1/2 cups of the mixture, then turn the remaining dough into the buttered pan. Gently and evenly press the dough over the bottom of the pan. Set aside while you prepare the next layer.
To make the chocolate layer
Put the condensed milk, chocolate chips, butter, and salt in a bowl over a saucepan of simmering water and stir occasionally until the milk is warm and the chocolate and butter are melted. Remove the bowl from the pan of water and stir in the vanilla, raisins, and peanuts.
Pour the warm chocolate over the oatmeal crust, then scatter the remaining oatmeal mixture over the top.
Bake for 25 to 30 minutes, or until the topping is golden brown and the chocolate layer is dull and starting to come away from the sides of the pan. Transfer the baking pan to a rack and cool for about 2 hours.
Using the parchment paper, pull the bars out of their pan and place on a rack. Refrigerate for at least 1 hour before cutting.
12 Responses to "Vegan Sugar Free Chocolate Rum Cookies"
Leave a Comment