Cous Cous Salad with Butternut Squash and Cranberries
Today's Week of Cranberries recipe features dried cranberries again. I know I say this a lot, but when I saw this recipe pop up in my Google Reader, I knew I needed to make this recipe. It has some of my favorite flavors all in one bowl. Hubby and I absolutely love butternut squash. We can't get enough of it. I've made risotto, bisque, pie, soup, chili, and even quesadillas with butternut squash! And we couldn't get enough of this salad! I enjoyed it cold better than room temperature, but Hubby prefered it at room temp. Either way it's delicious.
The combination of these flavors is great. When I was mixing up the salad, I thought the chickpeas seemed a bit off, but they were one of my favorites in the salad. They add a nice dimension of texture to the salad. The spices in the dressing are an amazing combination which enhances the fall flavors of this salad. The other great thing about this salad is how easy it is to throw together. I plan on bringing this as a side dish for a holiday potluck because you can definitely make it the night before.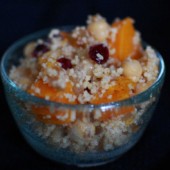 Cous Cous Salad with Butternut Squash and Cranberries
Ingredients:
1 medium butternut squash (or other hard winter squash), peeled and cut into 1-inch chunks - I used the pre-peeled and pre-cut butternut squash
3/4 cup uncooked cous cous
1 cup water
1 onion, diced
4-5 tablespoons white wine vinegar - I didn't have any, so I used 2 Tbsp red wine vinegar and 2 Tbsp white wine
2 tablespoons olive oil
Zest of one orange
1/2 teaspoon coriander - I left this out because I didn't have any
1 teaspoon cinnamon
1/2 teaspoon nutmeg
1 teaspoon cumin
1-3 teaspoons salt (to taste)
1 can garbanzo beans, drained
1/2 cup dried cranberries
Directions:
Pre-heat oven to 400 degrees F. Toss squash with a bit of olive oil and spread on a baking sheet. Roast squash, stirring occasionally, until tender - about 30 minutes. Allow to cool before combining with other ingredients.
Heat water in sauce pan to boiling. Add cous cous and stir. Remove pan from heat, cover with a lid, and let sit for about 15 minutes until the cous cous has absorbed all the water. Fluff with a fork and set aside.
Saute onion in a skillet over medium-high heat until translucent. Set aside and allow to cool.
In a small bowl, whisk together vinegar, olive oil, zest, spices, and 1 teaspoon of salt. In a large bowl, combine squash, cous cous, onions, garbanzo beans, and cranberries. Pour on the vinegar-oil dressing and stir to combine. Taste to check seasoning and add salt if needed. This salad can be served room temperature or cold.
Check out my week of Cranberries here.
One Response to "Cranberry applesauce"
Leave a Comment