Canning Party and Jam Maker Peach Jam
Hope everyone had a great weekend. If you follow me on Twitter or Instagram, you probably noticed that I did some canning this weekend. I partnered up with Ball to host a canning party with some of my friends.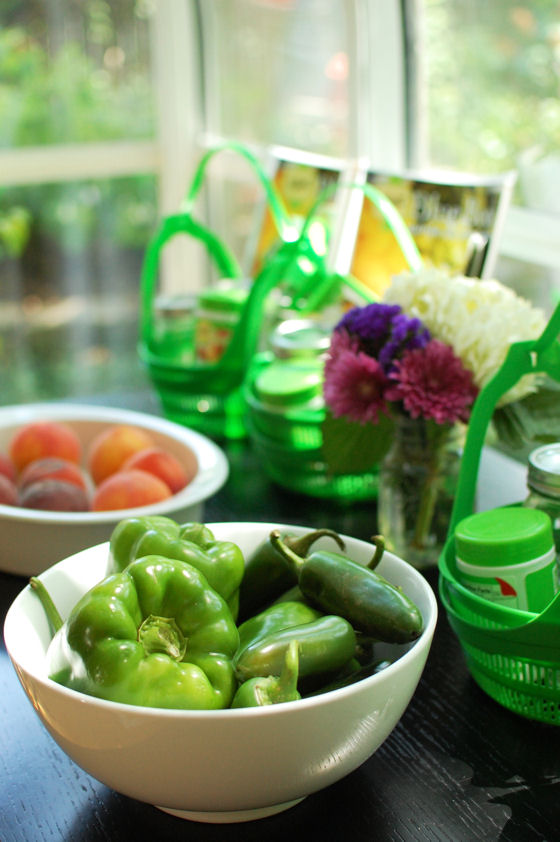 The first thing I had to decide on was what we were going to can. A friend of mine just brought me a half bushel of Georgia peaches, so I knew we'd be making some peach jam for sure. As I started hunting for other recipes to make, I decided on a red wine jelly and a green pepper jelly (recipes to come soon).
Next up, I gathered all of my supplies. Everyone at the party went home with a Ball Discovery Kit, Ball Classic Powdered Pectin, the Ball Blue Book Guide to Preserving, and printouts of the recipes that we made.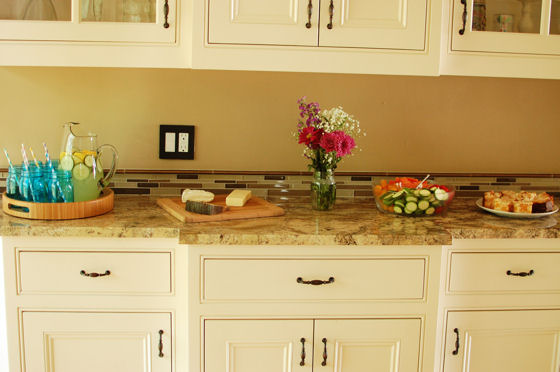 Since it was a girls afternoon in the kitchen, I prepared some snacks for us to enjoy. I set out a veggie and hummus dish, some peach pie bars, some cucumber lemonade cocktails, and some bread and cheese so we could taste our jellies as they were completed. I went ahead and washed all the jars and lids in the dishwasher on the sanitize cycle. I also decorated the kitchen with some fresh flowers in Ball jars instead of vases.
As we started getting going, we were talking about canning. No one at the party had ever canned anything themselves before, but most of us had stories of our parents or grandparents canning fresh produce from their gardens. One thing we learned as the afternoon went on was the importance of having a pot of boiling water on hand. We found our groove by keeping two large stockpots full of water on a burner at all times. That way we could keep jars warm in one pot and process jars in the other pot. I'm sure this is something more experienced canners know without even thinking about it. But it was definitely an "a-ha" moment for us.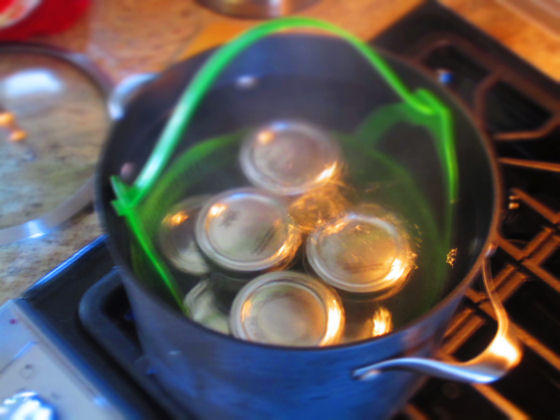 One comment that I kept hearing throughout the afternoon was how EASY this all was. The jellies and jams came together with just a few ingredients and little effort. And honestly, the intimidating "canning" process was nothing to be scared of at all.
Everyone went home with a half pint of each of the jellies we made. Each of the recipes had enough extra for us to taste with our bread and cheese board. (By the way, on my cheese board, I had a sharp cheddar, a goat milk brie, and some manchego). It was really hard to choose a favorite. Everyone agreed that the peach jam was a classic fruit jam that will be great in the mornings on toast. The pepper jelly was very unique and quiet addictive. The red wine jelly had a great color and flavor.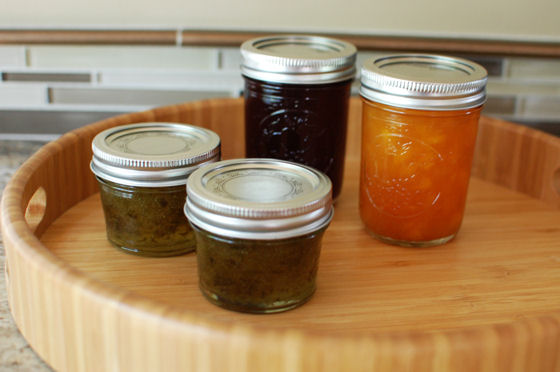 I'm including the peach jam recipe that we made below. We used the Ball FreshTECH Automatic Jam & Jelly Maker that Ball sent me for this recipe. It was super super simple. You really just pour everything in and let the machine do all the work. I posted a quick video the other day to show how simple it really is to use. I can see myself using this appliance in the future as I continue to make jams and jellies.
Thanks to Ball for helping me to face my fear of canning by asking me to participate in National Can It Forward Day. My friends and I learned a lot and I think you sparked a fire in my to try canning more produce this summer.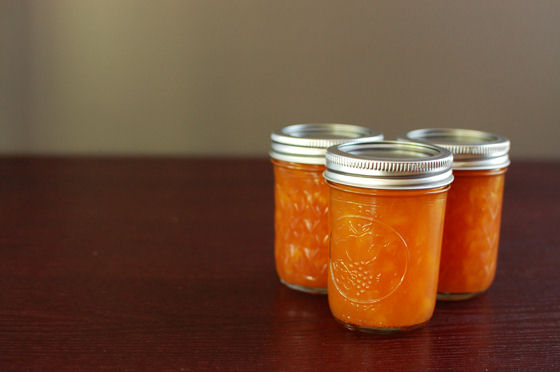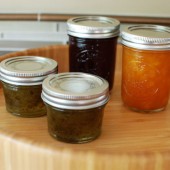 Jam Maker Reduced Sugar Peach Jam
Yield: Four 8 oz (half pint) jars
Ingredients:
3 1/4 cups crushed peaches (about 2 lbs or six medium)
3 Tbsp Ball® RealFruit® Classic Pectin
2 Tbsp lemon juice
1/2 tsp butter or margarine
2 cups sugar
Directions:
Wash, peel and pit peaches. Coarsely chop peaches, and then crush with a potato masher. Measure required quantity of crushed peaches and remaining ingredients for your recipe; set aside.
Sprinkle pectin evenly over bottom of the Pot fitted with the Stirrer. Add crushed peaches evenly over pectin. Pour lemon juice over peaches. Add butter/margarine to help reduce foaming.
Press jam button – the cook time will automatically default to 21 minutes. Press enter.
Wait 4 minutes for appliance to sound 4 short beeps indicating that it is time to add sugar. Add sugar gradually while Stirrer continues running. Place the Glass Lid on the Pot.
The appliance will continue to automatically stir your ingredients while it cooks. Stay within earshot of the Jam & Jelly Maker, the appliance will beep again at the end of the process signaling jam cooking is complete. Press cancel, unplug the appliance and immediately remove Glass Lid.
Remove Stirrer using a pot holder. Skim foam, if necessary, from top of jam.
Preserve jam immediately, using 1 of the 3 ways listed here.
One Response to "An Apple A Day – Homemade Applesauce – revisited"
Leave a Comment