Crockpot French Onion Soup
We all know that French Onion Soup is just an excuse to eat the melty crunchy cheesey toasts. And I fully support that thought. I mean is there anything more comforting than soup with toast and melted cheese on top?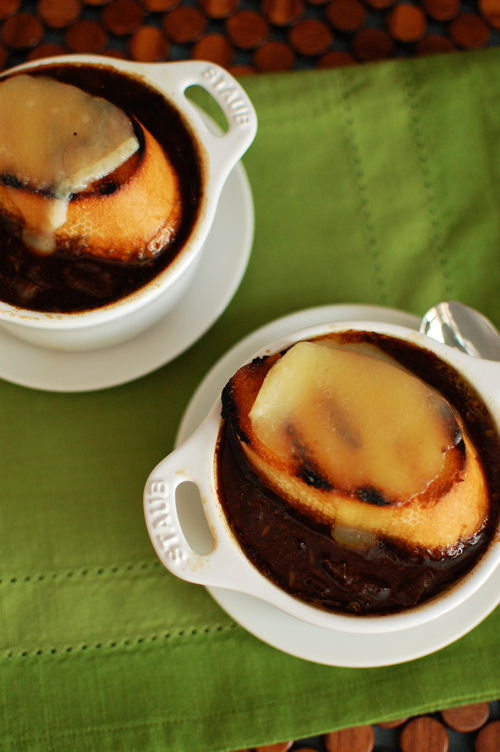 Hubby happens to love French Onion Soup. He orders it when we're out and always enjoys it. I had never had it before meeting him. The first time I tried it, I wasn't really a fan. But that was because he gave me a bite towards the bottom of the bowl. After he had finished off his cheesey toasted deliciousness.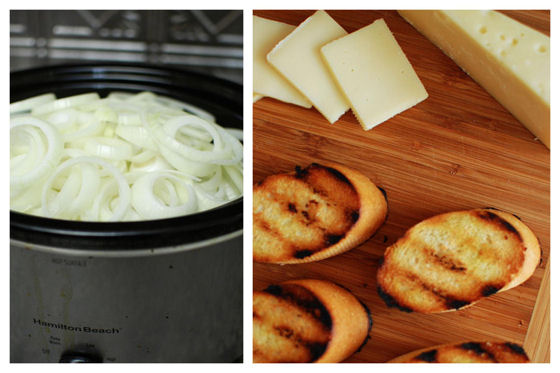 I decided to make this soup in the crockpot. I researched recipes online and everything I found looked somewhat bland… I took ideas from a variety of recipes, threw in a bunch of garlic, thyme, and of course red wine and came up with this recipe. Hubby claims it's as good as any he's had in a restaurant.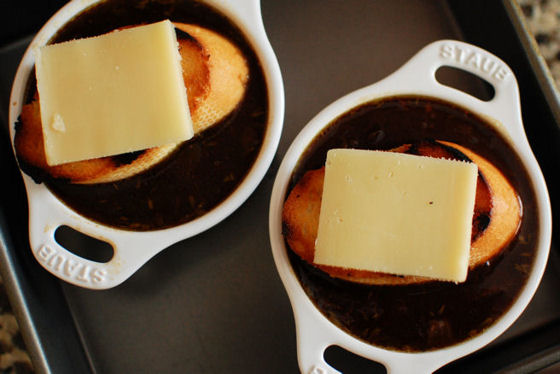 One thing to note about this recipe, you cook the onions overnight. So you'll want to start this the day before you plan to enjoy it.
One Year Ago: White Bean Soup with Andouille and Collard Greens and My Go-To Cream Cheese Frosting
Two Years Ago: Chocolate Bacon Cupcakes with Caramel Frosting
Three Years Ago: Pretzel Chocolate Chip Cookies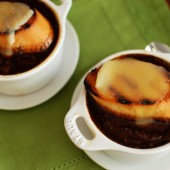 Crockpot French Onion Soup
I caramelize the onions overnight and then cook the soup during the day
Ingredients:
For the Soup
4 Tbsp butter
3 lbs onions, sliced into rings
3 Tbsp flour
1 Tbsp Worcestershire sauce
1 tsp sugar
1/2 tsp freshly ground pepper
6 cloves garlic, minced
fresh thyme
26 oz beef stock
32 oz low-sodium beef broth
1/4 cup red wine
For the Toasts
French bread, sliced
Gruyere cheese, sliced
Directions:
For the Soup
Place butter and onions in crockpot. Your crockpot should be full to the top with onions.
Place a double layer of paper towels over crockpot, extending past the edges. Put lid on crockpot. The paper towels will absorb the moisture as opposed to it dripping back into the onions.
Set crockpot on high for one hour. Reduce to low for 8-10 hours. (I let the onions cook overnight.)
Mix flour, Worcestershire sauce, sugar and pepper. Stir flour mixture, garlic, thyme, stock and broth into onions.
Cover and cook on low 6-8 hours (or high 2-3 hours). 30 minutes before the end of the cooking time, stir in the red wine.
For the Toasts
Heat grill pan over high heat. Grill bread 2 minutes on each side, until crispy.
To Assemble Soup
Set oven to broil setting.
Ladle soup into individual oven-safe serving bowls. Only fill bowls 3/4 full. Add one piece of toast and a slice of cheese.
Broil until cheese is melted (timing will depend on your oven - just keep an eye on it.
Leave a Comment