Pretzel Chocolate Chip Cookies
While most people are thinking of healthy meals and exercising, I've been thinking of these cookies. I made these cookies a while ago and to take on a weekend trip with friends. They were a bit hit. They combine sweet and salty into every bit. The pretzel sticks in the chocolate chip cookies also give a nice little crunch.
I always use Ghirardelli bittersweet chips in my cookies because I love the size of the chips almost as much as the flavor. They're a bit bigger but flatter than the standard Nestle chocolate chips. If you see the Ghirardelli chips in your supermarket, I definitely recommend trying them!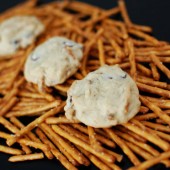 Pretzel Chocolate Chip Cookies
Ingredients:
2 1/3 cups all-purpose flour
1 teaspoon baking soda
3/4 teaspoon salt
12 tablespoons unsalted butter, slightly softened
1 cup packed dark brown sugar - I used light brown sugar
1/2 cup granulated sugar
2 large eggs
2 teaspoons vanilla
2 cups coarsely crushed pretzel sticks
2 cups bittersweet chocolate chips
Directions:
Preheat oven to 350 degrees.
In a medium bowl, whisk together flour, baking soda and salt.
In a large mixing bowl, beat together butter and sugars until creamy. Beat in eggs, one at a time, mixing until combined after each. Mix in vanilla. Gradually add dry ingredients into the butter mixture and beat just until incorporated. Add crushed pretzels and mix briefly to combine. Fold in chocolate chips.
Drop dough using a tablespoon cookie scoop onto parchment-lined baking sheets and flatten dough balls slightly. Place into the oven and bake cookies until they are lightly golden around the edges, about 9 to 13 minutes. Remove from the oven and let cookies cool for a couple minutes before transferring them to a wire rack to cool completely.
2 Responses to "New York Times Chocolate Chip Cookies"
Leave a Comment