It's a Surprise Birthday Party
I know I've said this time and time again, but five years ago when I started this little blog, I had no idea the sense of community that would come from being a food blogger. I have met some really interesting people, both online and in real life, and made some amazing friends through blogging.
Today is one of those amazing friend's birthdays! Fiona from A Boston Food Diary is celebrating a birthday today. Fiona is one of the most caring, funny, passionate, and enthusiastic people I have ever met. I wanted to do something to celebrate with her and some of her blogging friends.
I decided to throw a virtual surprise birthday party for her today! Similar to the online showers I've participated in throughout the years, I asked some of her blogging friends to post about something Fiona would enjoy to celebrate her special day. Be sure to check out what everyone made to bring to Fiona's birthday party. And, for an extra special treat, be sure to wish Fiona a Happy Birthday on her blog, or twitter!!
Amber from Bluebonnets + Brownies made Sunday Cupcakes with Fleur de Sel Caramel Frosting

Aimee from The Apron Archives made Carrot Raisin Scones

Erica from In and Around Town posted Ocean Views at Legal Harborside's First Floor

And last, but not least, I made a Happy Birthday Cocktail. I didn't really know what else to name it. It is reminescent of some great cocktails I've been enjoying lately. The drink contains Hendrick's Gin, St Germain, and Champagne! How could that not be amazing?!?

Two Years Ago: PB&J Omelet
Three Years Ago: Crockpot French Dip Sandwich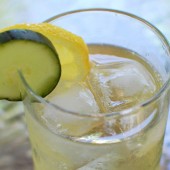 Happy Birthday Cocktail
Ingredients:
1 part gin (recommended: Hendrick's)
1 part St Germain
3 parts champagne
1 cucumber slice
1 lemon wedge
Directions:
Fill glass with ice. Add gin and St Germain. Stir to combine.
Top with champagne.
Garnish with cucumber and lemon.
Leave a Comment