Freshly Squeezed Lemonade
Over Labor Day weekend, I went to a lovely little picnic with some great friends. It was a beautiful end of summer day and I wanted to bring something refreshing to drink. I bought a bunch of lemons and whipped up some freshly squeezed lemonade.
I was a bit naive about how much lemonade I'd get from my big stack of lemons. After squeezing 10 lemons, my pitcher was still only about 2/3 full. But this lemonade was definitely worth the effort. It just tastes like summertime dancing around in your mouth.
One Year Ago: Elote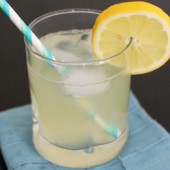 Freshly Squeezed Lemonade
Ingredients:
For the simple syrup
1/2 cup water
1/2 cup sugar
For the Lemonade
3/4 cup freshly squeezed lemon juice (from about 5 lemons)
1 1/2 cups water
Directions:
First, prepare the simple syrup by heating the sugar and water over medium heat just until the sugar is dissolved. Remove from heat and allow to cool slightly.
Pour lemon juice into a small pitcher and add 1 1/2 cups water.
Pour the simple syrup into the pitcher and stir.
Taste for sweeteness/tartness and add additional sugar or water, if desired.
Add ice to individual glasses and serve.
9 Responses to "Strawberry Blueberry Jam"
Leave a Comment