PB&J Omelet
It's a well known fact that I eat some weird things. Well at least that's what Hubby will have you thinking. We saw a girl eating a pickle with ketchup at a restaurant the other night. Now THAT'S a weird food combination.

This one might be pretty weird too… I saw this pop up in my Google Reader and wanted to try it. I already knew I like jelly with eggs. And obviously like peanut butter with jelly. The weirdness comes in when you think about eating peanut butter on eggs… But I'll tell you what, it works.

The warm egg helps to melt the peanut butter and jelly into an ooey gooey deliciousness. I'm pretty sure Hubby has never seen me eat this since I only have it every once and a while when I'm working from home. I'm sure he'd be disgusted even more than when I eat jelly on a breakfast sandwich.

I like to spread the peanut butter on half and the jelly on the other half the fold it over and let it set for a few minutes to melt a bit. I used the strawberry-blueberry jam that I recently made for this omelet.
One Year Ago: Crockpot French Dip Sandwich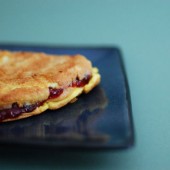 PB&J Omelet
Ingredients:
2 eggs
milk
peanut butter
your favorite jelly or jam
Directions:
Beat your eggs with a small amount of milk. Cook as an omelet with no fillings. Place cooked eggs on plate.
Spread peanut butter and jelly on the cooked eggs. Fold egg over while still hot to melt peanut butter and jelly.
9 Responses to "Goat Cheese and Sundried Tomato Appetizers"
Leave a Comment