Candied Vanilla Pecans
You know how they say you should bake fresh cookies before an open house so that your house will smell more enticing to potential buyers? I'm going to go ahead and claim that instead of cookies, you should make these Candied Vanilla Pecans. My house smelled AMAZING last night when I made these. They bake for an entire hour, so the wonderful sweet vanilla scent lingers for a good while. I honestly didn't want to go to bed and miss any of the awesome smelling air in our place.
The pecans were still warm when I went to bed so I didn't get to try them until today. Let me tell you, they taste better than they smell. This recipe is amazing. If you're looking for a last minute holiday gift to make or even a snack to take to a holiday potluck, definitely give this simple recipe a shot.
One Year Ago: Toffee Pecan Cookies
Two Years Ago: Pecan Pie
Four Years Ago: Squash Bisque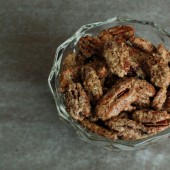 Candied Vanilla Pecans
Ingredients:
4 cups (~1 lb) pecans
1 egg white
1/2 tsp vanilla
1 Tbsp water
1 tsp cinnamon
1 heaping tsp sea salt
3/4 cup vanilla sugar (If you don't have vanilla sugar, substitute regular sugar and increase the vanilla extract to 1 tsp)
Directions:
Preheat your oven to 250 and line a large baking sheet with parchment paper.
Mix together the sugar, cinnamon and sea salt.
In a large bowl combine the egg white, vanilla and water. Beat the egg until it's light and frothy. Stir in the pecans and mix well. Pour in the sugar mixture and stir until all the pecans are coated.
Dump the mixture onto your large baking sheet and spread the nuts out evenly.
Bake about 1 hour making sure to stir every 15 minutes and break up any large clumps.
Cool completely on the baking sheet on a wire cooling rack.
12 Responses to "Pumpkin and Chocolate Caramel Corn"
Leave a Comment