Butterbeer Recipe
Leading up to the midnight showing of the final Harry Potter movie, I really wanted to have a Harry Potter party. It wasn't in the cards, so instead I made some Harry Potter themed treats for Hubby and I to enjoy while watching Deathly Hallows Part I the other night.
There are quite a few recipes for butterbeer out there. But I wanted to make something that matches what butterbeer was in my mind while reading the books. To me, butterbeer is warm, buttery, and spiked with a bit of some spicy alcohol. The warm butterbeer is topped with a frothy whipped foam on top that leaves a mustache when you take a sip.
I set out to develop this recipe and Hubby and I agreed that this butterbeer was delicious and very fitting for Harry and his friends.
One Year Ago: French Silk Pie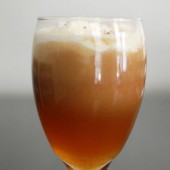 Butterbeer
Ingredients:
For the Butterbeer
1/3 cup packed dark brown sugar
1/4 cup (1/2 stick) unsalted butter, room temperature
2 Tbsp honey
1/4 teaspoon ground cinnamon
1/8 teaspoon ground nutmeg
1/16 teaspoon ground cloves
Pinch salt
3 Tbsp toffee bits (you can use butterscotch chips here if you have those on hand)
1/3 cup spiced rum
1 cups boiling water
For the Foam
2/3 cup heavy cream
2 tablespoons sugar, or splenda for sugar free version
1 teaspoons vanilla extract
1/2 teaspoon butter
Directions:
Prepare the butterbeer:
Using an electric mixer, beat the brown sugar, butter, honey, cinnamon, nutmeg, cloves, and salt in a medium bowl until blended and smooth. Stir in the toffee bits Transfer the mixture to a 4-cup (or larger) measuring cup. Add the rum and then the boiling water. Stir until the butter mixture dissolves. Pour through a sieve to remove any toffee bits that did not dissolve. Divide the buttered rum among 2 mugs.
Prepare the foam:
In a large bowl, or the bowl of a standing mixer, whip the heavy cream on medium high speed for 3-4 minutes until it starts to thicken. Add the sugar and continue whipping until very soft peaks begin to form, another 3-4 minutes. Stir in the vanilla and butter, then whip for another 30 seconds or so, until soft peaks form.
Spoon a generous portion of foam on top of each glass of butterbeer, mixing gently. Serve immediately.
3 Responses to "Tiramisu Cupcakes (Cupcake Hero)"
Leave a Comment